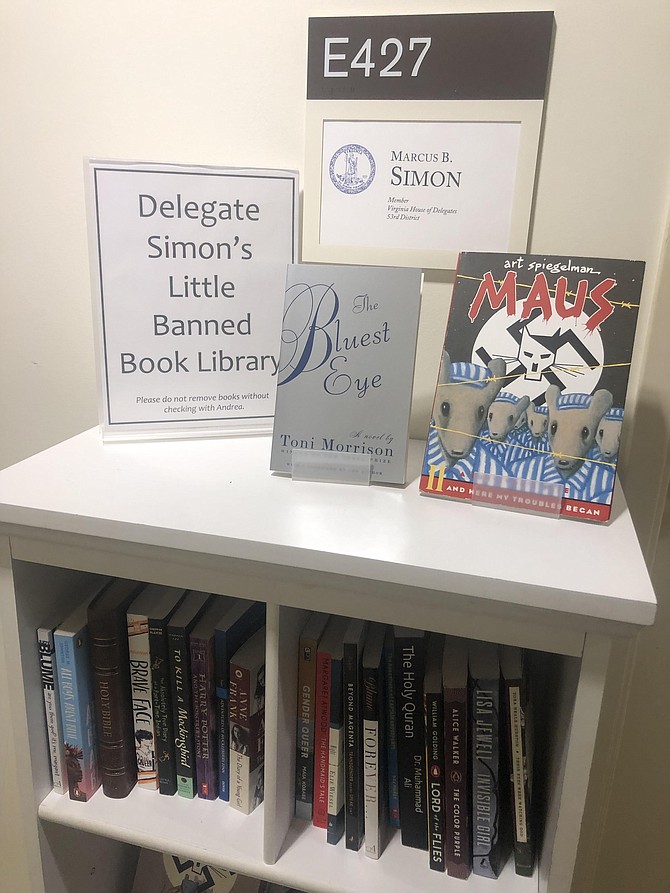 Toni Morrison's Pulitzer-prize winning book "Beloved" prompted such outrage in one Fairfax County parent in 2013 that she tried to have the book banned from her son's AP English class. Laura Murphy said the book gave her teenage son nightmares, and she urged school officials to do something about it. She took the fight all the way to the Fairfax County School Board, which voted six to two to keep the book in the AP English curriculum.
Inspired by the criticism over "Beloved," former Del. Steve Landes (R-25) introduced a bill in 2016 that would have required schools to notify parents if they expected to provide instructional material that had "sexually explicit instructional material." The bill passed a Republican-controlled House and a Republican-controlled Senate, although it received a veto from Democratic Gov. Terry McAuliffe.
That veto ended up being perhaps the most significant issue of the campaign for governor last year. Republican candidate Glenn Youngkin said he would have signed the bill if he were governor, and he used the issue as a wedge against the former governor who was attempting to return to the Executive Mansion. During a heated debate between McAuliffe and Youngkin at the Schlesinger Center in Alexandria. Youngkin repeatedly needled the former governor until McAuliffe stuck his foot in his mouth.
"I don't think parents should be telling schools what they should teach," said McAuliffe in a moment that was endlessly repeated in Republican campaign commercials.
FLASH FORWARD to 2022. Youngkin is now governor, and he's poised to sign Senate Bill 656, which was introduced by Sen. Siobhan Dunnavant (R-12) as a sort of sequel to the Beloved Bill. Like the previous incarnation, it requires schools to notify parents when they plan on teaching "sexually explicit content." This time, two Senate Democrats crossed party lines to vote with the Republicans and send the bill to the governor's desk: Sen. Lynwood Lewis (D-6) and Sen. Monty Mason (D-1).
"This bill is something we can all embrace," said Dunnavant. "It's about actually making sure tough conversations happen and parents interact with their children on those things."
The legislation was communicated to the governor on March 9, which means that Youngkin has until April 11 to make a final determination. That means the governor is poised to deliver on his campaign promise of signing the bill that McAuliffe vetoed. That has raised alarm bells for people who worry that notifying parents of "sexually explicit content" would have a chilling effect among teachers who might avoid teaching "Beloved" in favor of something more anodyne.
"I think there are some racist undertones to the conversations about her novel, and that concerns me," said Alexandria School Board Chairwoman Meagan Alderton. "We have this wonderful Pulitzer-prize winning fabulous Black female writer who has received her accolades for obvious reasons. I can't help but wonder what the real concern is about."
ACROSS THE COUNTRY, efforts to ban books from school libraries have intensified in recent years. A Texas lawmaker identified 850 books last year he fears "might make students feel discomfort, guilt, anguish or any other form of psychological distress because of their race or sex." Here in Virginia, a Chesterfield parent worked with Sen. Amanda Chase (R-11) to advocate against books celebrating LGTB relationships or examining drug use, specifically "Eleanor and Park" by Rainbow Rowell, "Dope Sick" by Walter Dean Myers and "Tyrell" by Coe Booth.
"Most parents, if they actually read excerpts, would have grave concerns," Chase told the Chesterfield Observer. "As a parent, that's not something that I want my kids reading."
In several cases, school boards across Virginia have taken quick action only to reverse course later. The Spotsylvania County School Board was forced to reverse its decision to remove a list of sexually explicit books from its schools after intense pushback from the community. And the Fairfax County School Board removed two books from its library shelves then put them back after hearing concerns about censorship and suppression. The Alexandria School Board has not yet had a similar controversy erupt, but some are concerned the Beloved Bill has similarities to a bill in Florida outlawing discussions about sexual orientation or gender identity in primary schools.
"I think that our bill is a slippery slope and is not too far away from Florida's 'Don't Say Gay' bill," said School Board member Kelly Carmichael Booz. "I'm concerned about that for the respect for each of our children who live in Alexandria, and I want them to feel valued regardless of their race or their gender identity or anything else."
EFFORTS TO BAN BOOKS are almost as old as books themselves, and Northern Virginia school boards have wrestled with this issue for decades. In 2003, a group of concerned parents formed a group known as Parents Against Bad Books in Schools and started challenging titles like "The Pillars of the Earth" by Ken Follett and "Daughters of Eve" by Lois Duncan. The group identified 55 books its members said were "extreme" and compiled a list of 700 books that had been challenged across the country.
"In recent years, our schools are becoming a minefield of vulgar, sexually explicit, graphically violent and controversially themed books in the curriculum, classroom collections and libraries," said PABBIS leader Kathy Stohr at the time. "The term minefield is especially appropriate because the student is not aware until the material is right in his face, and then it is too late."
Mychele Brickner, Fairfax County School Board chairwoman at the time, hoped the issue of controversial books would be a springboard to higher office, and she launched a campaign for chairman of the Fairfax County Board of Supervisors. The chairmanship was open in 2013, and Brickner hoped concerns over inappropriate books in schools might provide a path to victory. But her campaign fizzled out when her opponent, Supervisor Gerry Connolly, turned the issue against her and was elected with a huge margin of victory.
"I can show you sections of the Bible that ought to be banned in schools," said Connolly during the campaign. "I just don't think government ought to be in the business of telling you or me what we should read or what our children should read."