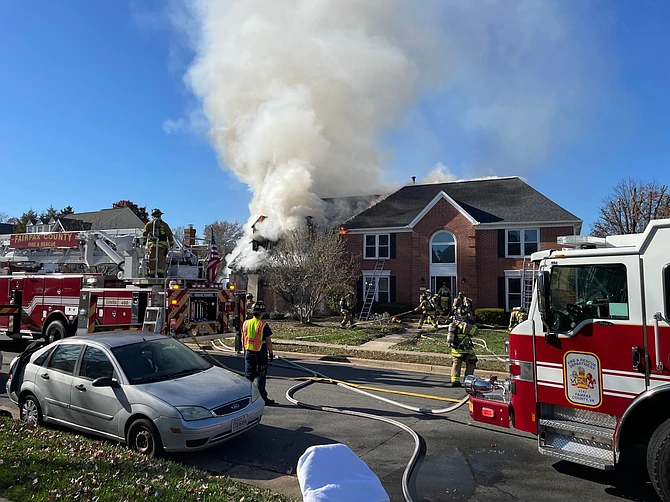 On Wednesday, Nov. 9, at approximately 1:33 p.m., units from Fairfax County Fire and Rescue Department, the Metropolitan Washington Airports Authority Fire and Rescue Department, and the Loudoun County Fire and Rescue Department were dispatched for a reported house fire in the 800 block of Winterhaven Place in the Town of Herndon.
Units arrived on the scene of a two-story, single-family home with fire showing from the garage, and extending into the attic. Crews worked quickly to contain and extinguish the fire. One cat was rescued and returned to the owners. There were no civilian or firefighter injuries reported.
Four occupants were home at the time of the fire. One occupant noticed the computer router was not working and asked another occupant to reset the router in the garage. That occupant proceeded to the garage, discovered the fire, closed the door between garage and home, and alerted all occupants. All safely evacuated the house. Smoke alarms were present but did not activate due to the location of the fire.
Fire Investigators determined the fire was accidental in nature and started in the garage. The cause of the fire was electrical in nature.
Eight occupants were displaced because of the fire. Red Cross assistance was offered and accepted. Damages as a result of the fire were approximately $298,000.