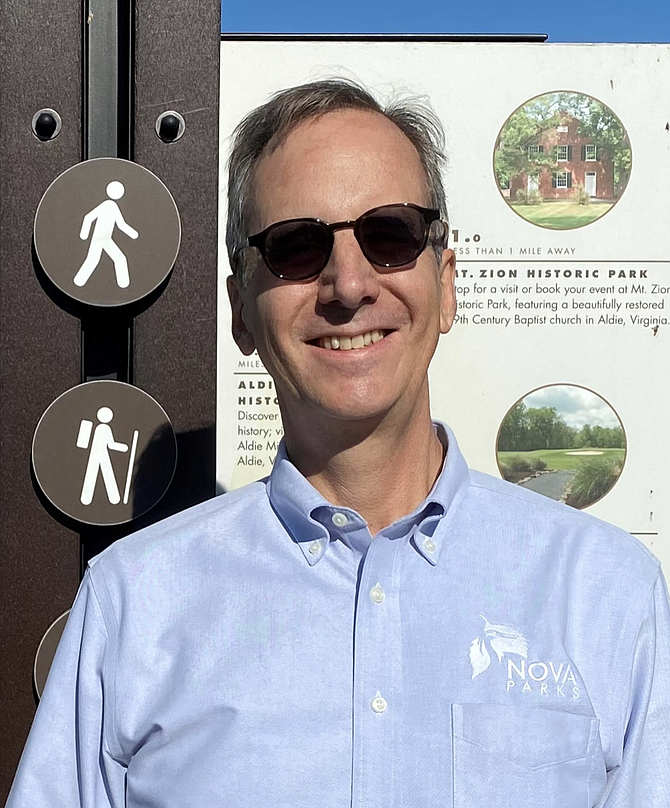 The Fairfax County Branch of the NAACP has acknowledged the work of NOVA Parks Executive Director Paul Gilbert with a Freedom Fund Community Advocate Award. The Award recognizes community members working for racial equality. NOVA Parks partnered with the Fairfax County NAACP to help tell the stories of the Black community's contributions to Northern Virginia. 
"Fairfax NAACP has enjoyed a strong partnership with NOVA Parks. We owe that to Paul Gilbert," said Reverend Lynda Alicudo, Chair of the Religious and Community Coordination Committee for the NAACP Fairfax County Branch. "Paul has been tireless in his commitment to a vision that includes programming that engages our community, the African American community, and tells a more inclusive history."
The award is the result of an on-going NAACP/NOVA Parks partnership, focused on telling a more inclusive history of Northern Virginia. Under Gilbert's leadership, NOVA Parks unveiled nine interpretive signs that focus on a diverse history, and adopted 'Belonging' as one of the five main priority pillars of its 2023-2027 Strategic Plan. 
"What we sometimes call 'Black history' is really our history. It is the history of our region and our nation," Gilbert said about the award. "Understanding our past is important because we all get to collectively write the next chapter, and we can make choices about what that future will be. Public lands like NOVA Parks belong to everyone. 
"It is important for the history we tell to reflect the entire community," Gilbert said. "The award from the NAACP is a great indication that we are on the right track. It has been a real pleasure to work with the NAACP to deliver these and other stories."
The stories told on the newly placed signs highlight a painful, at times inspiring past. The signs dedicated in February, in Arlington, Fairfax, and Loudoun counties, tell the story of Jim Crow era laws which discriminated against people of color who rode the Washington & Old Dominion railroad in the first half of the 20th century. Also, in February, NOVA Parks dedicated a site at Bull Run Marina in the Clifton area that had been a graveyard for enslaved people. 
In June, the Fairfax County Branch of NAACP and NOVA Parks partnered to host the first annual Juneteenth event at Bull Run Regional Park in Centreville. Bull Run Regional Park is on land once part of the 18th century Leo Plantation, owned by Robert Carter III. After a religious experience, Carter built a church that was open to both Black and white residents of the area. He later emancipated over 500 enslaved people and allowed them to own land. Carter's actions resulted in a thriving freedmen's community at Bull Run 70 years before the Civil War and Emancipation Proclamation. A descendant of one of those freed, Alfred Harris, earned his law degree from Howard University, shortly after the Civil War. He went on to serve on the Alexandria City Council; and later moved to Petersburg where he became a State Delegate. Delegate Harris championed the bill that created the first University open to people of color in Virginia. 
These and other related stories on display for visitors at Bull Run Regional Park were researched by NOVA Parks historian, Paul McCray, a Parks employee with 40 years of service. Through McCray's work on the interpretive signs, visitors can follow a trail that leads to the site of the former Bull Run Baptist Church, which was created by Carter, and its cemetery. NOVA Parks has discovered over 90, mostly unmarked, graves in this area using ground penetrating radar. During the Juneteenth event and the unveiling of these newly discovered stories, the accomplishments of Del. Alfred Harris were celebrated with resolutions from the Fairfax County Board of Supervisors, City of Alexandria City Council, and Virginia House of Delegates.
The result of the NAACP/NOVA Parks' partnership has been increased public awareness of the contributions of people of color to area history, and a focus on diversity, equity, and inclusion in park programs, to engage the various cultures and communities that make up Northern Virginia and create a sense of belonging for all. 
Visit 
novaparks.com/News
 for more information about Northern Virginia's inclusive history being shared in parks.