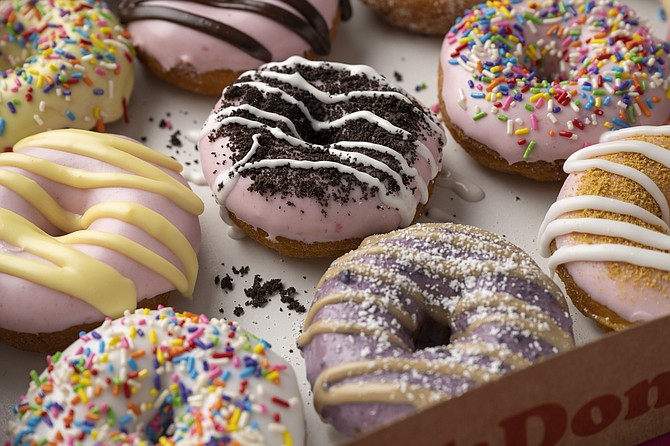 The Keene Mill Shopping Center now has a new attraction in the form of Duck Donuts, and in the early morning hours of Thursday, Oct. 20, the first dozen rolled off the rack to a cheerful crowd. Particularly Christina Francis who got the "Spooky Box," of Halloween-themed donuts. She had her grandkids in mind. "The little ones are going to love it," she said, thinking about her newest house guests that are staying while their mother is deployed with the U.S. Navy. "It will be a nice surprise."
The donut store is the newest attraction in this shopping center that gets many commuters on the way to work in the morning, as well as a gaggle of West Springfield High School students before class and at lunchtime. The franchise is owned and operated by Tesfaye Dres, owner of the popular Alexandria Duck Donuts shop.
Their menu is not limited to glazed and jelly-filled either. They have a wide variety of donuts available, including the apple cobbler, French toast and peanut butter paradise, to name a few. Breakfast sandwiches, coffee and ice cream-donut combos are available too.
Surprisingly, the donut chain is named after a little town on the Outer Banks in North Carolina called Duck that is hopping during the summer, but like other beach towns, but dies down a little in the colder months.
In 2007, Russ DiGilio was on vacation in Duck and had an idea. "We enjoyed all there was to see and do in the quiet, family-oriented town, but we noticed there was nowhere to get that sweet staple of happiness — a warm, fresh donut," he said. 
They even have Ollie the donut "duckbassador," for their logo.
DUCK DONUTS SPRINGFIELD
6:00 AM - 8:00 PM M-F, Weekends 7:00 AM - 8:00 PM
8404 A Old Keene Mill Road
West Springfield
703-712-7453