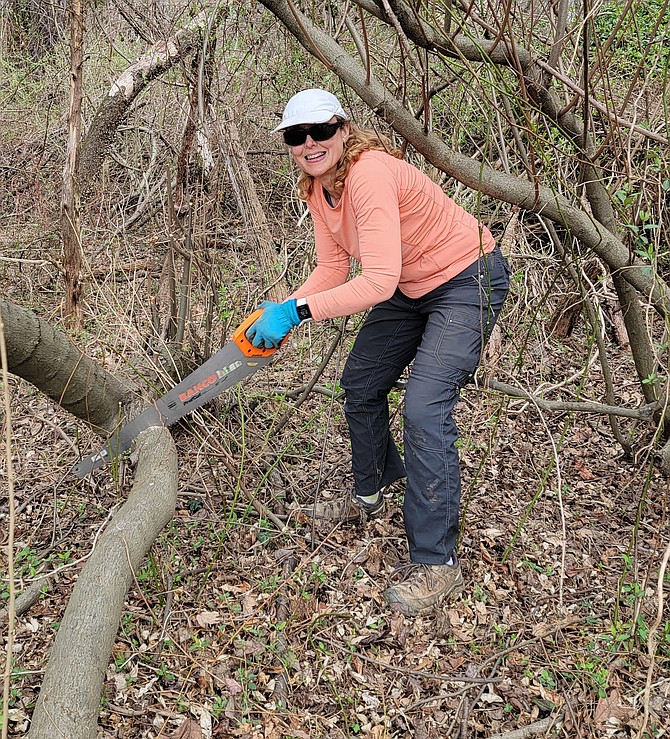 This summer, The Fairfax County Park Authority Board announced two recipients of the Elly Doyle Park Service Award for 2022, and both recipients are part of the fight against invasive plants that are popping up all over the county. One of the Elly Doyle winners is Stephen Markle, an Invasive Management Area Volunteer Site Leader and a Park Volunteer Team Leader at Gil McCutcheon Park in Alexandria, while Willow Martin, the second 2022 Elly Doyle Award winner, is an Invasive Management Site leader for Oakton Community Park.
Markle worked in and around Gil McCutcheon Park in the Fort Hunt area since before it became a park and has become an integral part of the park's formation ever since. He is heavily involved with the removal of invasive plants such as English Ivy, Kudzu and bamboo. As part of that effort, he's incorporated some volunteer assistance and helped the area scouts, hosting nine Boy Scout Eagle Projects, one Girl Scout Gold Award Project and one Duke of Edinburgh Project for a Scout visiting from England. "There is still lots to do, but we are making progress and having a positive effect on our natural world," Markle said.
Willow Martin lives out in the Oakton area and has become a positive contributor to Oakton Community Park. Clearing out invasive species is one of the tasks she's taken on through the years, which started with the removal of invasive plants in her own yard. "I began volunteering at Oakton Community Park last year after being asked by Lauren Crum, an officer of the Greater Oakton Community Association, to help lead invasive plant removal efforts at the park. Prior to becoming an official volunteer Invasive Management Area site leader, I was mentored by two IMA site leaders, Heidi Allen and Sara Holtz, who are both very knowledgeable and dedicated IMA site leaders.  I also completed IMA Site Leader training provided through the IMA office," Martin said.
Martin has seen her efforts pay off. "In areas where invasive plants have been removed, we are starting to see native plants emerge. Trees that have been burdened by invasive vines are beginning to recover," she said.
Elly Doyle Award
The Elly Doyle Park Service Award was established on Dec. 20, 1988, in recognition of former Park Authority Board Chairman and member Ellamae Doyle's years of outstanding service toward the preservation of parkland and establishment of natural and recreational areas for the benefit of Fairfax County residents. The award publicly recognizes volunteers for outstanding contributions to Fairfax County parks.
The FCPA has put effort into the battle with invasive plants, forming an Invasive Management Area program to keep the fight going. In the past year they've had their most successful year yet, with 3,000 volunteers donating 16,404 hours removing non-native invasive vegetation at 65 sites. In 2021, they treated 417 acres of parkland for invasive species, and recently initiated a "Tree Rescuers," team to help residents save trees from invasive vines.
Friends of the Mount Vernon trail has also been fighting the battle against invasive plants growing onto the trail, blocking sightlines and threatening trees. Just about every weekend in the warmer months, they are fighting the battle somewhere along the trail. Their latest effort on Aug. 13 was invasive plant removal near the stone bridge in Mount Vernon. "On Saturday, volunteers removed invasive vegetation at the stone bridge. Trail users can now better see auto traffic and other trail users at this intersection," their social media post read.
A Nationwide Effort
Invasive species are a nationwide problem, and the Environmental Protection Agency is trying to do something about it. The EPA estimates that damages from invasive species, including only those damages that can be expressed in monetary terms, have been as high as $138 billion per year, according to EPA website. These damages affect agriculture, rangeland, forests, people's homes and yards, human and animal health, food supplies, fishing and boating, outdoor recreation, and many other areas.
Invasive species are thought to have been involved in 70% of this century's extinctions of native aquatic species, and 42% of current endangered species are impacted significantly by invasive species.
The Department of Interior has a National Invasive Species Council, which consists of representatives from 16 different government entities, including the DOD, DOT and NASA to name a few. Their goal is to prevent, eradicate, and control invasive species, as well as recover species and restore habitats and other assets adversely impacted by invasive species, Interior information stated.