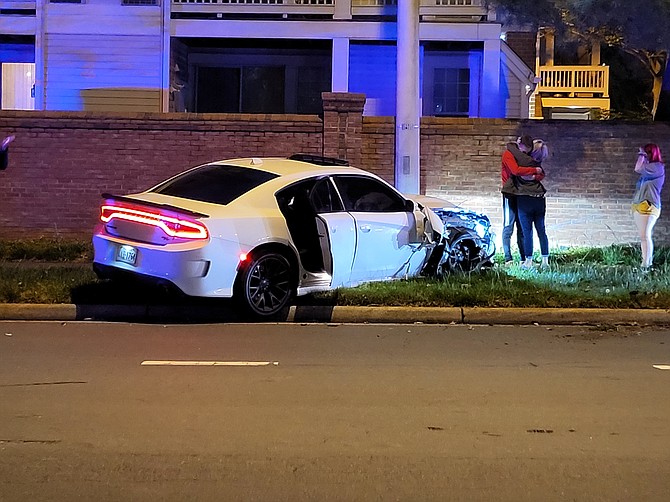 In Mount Vernon, 
April 7, Fairfax County officers responded to the scene of a stabbing in the 7900 block of Richmond Hwy. Two juvenile victims were taken to the hospital with wounds to the upper body. One had injuries considered life-threatening, one considered non-life threatening. Suspects are in custody. Preliminarily, not a random act.
At the busy intersection of Manchester Boulevard and Kingstowne Village Parkway on Friday, April 7, cars collided at an intersection that has seen many accidents over the last few years. The traffic signal has a turn-only feature, but also a flashing yellow light and the visibility is limited so the turning cars can be in danger.
A few blocks away, police cruisers blocked the road and the police helicopter circled the area after a shooting in a commercial area of Kingstowne. According to police, the shooting took place in the area of Barclay Drive and King Centre Drive at around 5:30 p.m. when a man was shot in the upper body. He was taken to the hospital for injuries that were not considered to be life-threatening. This does not appear to be a random act, police reported. They did say it was an isolated incident.
The police did not have much follow-up information about the shooting but there were questions on the FCPD social media feed. Ryan Sluss wanted to know if it was related to an incident close by. "Choppers above Hybla Valley, related? Suspects?" he asked. Another was on site. "I drove by there 10 minutes to 5 and saw him on the grass. There were already a whole bunch of people there," he said. "There are a lot of shootings in FXX County. What's going on?" he asked.
Also April 7, crash reconstruction detectives responded to a fatal pedestrian crash at Richmond Hwy and Fairfax County  Parkway. Preliminarily, detectives determined that the drivers of a 2008 Chevrolet Impala and 2014 Nissan Altima were traveling south on Richmond Highway at Anderson Lane. The driver of the Impala initially struck Phillip Hester, 62, who was walking outside of a crosswalk. Hester was subsequently struck by the driver of the Altima. Both drivers remained at the scene. Hester was declared deceased at the scene. Preliminary, speed and alcohol do not appear to be a factor for the drivers in the crash. Anyone with information about this crash is asked to contact our Crash Reconstruction Unit at 703-280-0543. 
On Thursday, April 6 there was another shooting in Groveton where a man was wounded and the day before, another shooting in Reston where another man was wounded, police said.