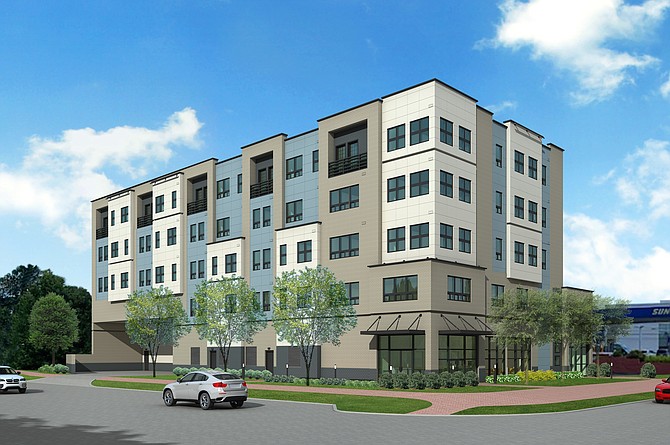 It's often difficult for city officials to balance everyone's needs, but Fairfax City Council is trying to do the best it can. As a result, it gave a large amount of money last week to a project to house the homeless, while also putting some aside to help lower-earning City employees obtain their own housing.
On Dec. 13, 2022, Council approved The Lamb Center and Wesley Housing's request to construct permanent, supportive housing at 9640 Fairfax Blvd. It'll replace the old Hy-Way Motel with an affordable, five-story apartment building that gives 54 homeless people a place to live.
Ten days later, The Lamb Center and Wesley asked the City to appropriate the $825,000 in its Affordable Housing Trust Fund toward this project which is estimated to cost $29 million. The fund was created from developers' proffers earmarked for affordable housing here.
And last Tuesday, Feb. 14, Fairfax agreed to chip in most of it, but not all. Instead, Council members approved $700,000 from that fund. The other $125,000 will be retained to help City employees, such as teachers and public-safety staff, afford to buy and rent homes in Fairfax, too. 
Various other sources, including the Fairfax County Redevelopment & Housing Authority (FCRHA), are also planned to help fund the new building. However, the largest portion of upfront capital is anticipated to be provided via competitive Low Income Housing Tax Credits – and applications for them are due March 16.
It's federal money allocated annually through Virginia Housing, and already-secured local funding is a consideration regarding which projects receive these credits. So toward that end, a cash infusion from Fairfax City would help, as well as illustrate the City's faith in this project.
The apartment building will be a block from The Lamb Center's daytime, drop-in shelter on Campbell Drive. Wesley Housing is the project developer and – with The Lamb Center's guidance – will manage the property. There'll be 42, 350-square-foot efficiency units; 10, one-bedroom; and two, two-bedroom for residents needing caregivers. And 15 percent will be ADA-compliant. 
Residents will have their own rental leases with no time limits, and a variety of services will help them stay in and maintain their homes, find employment/income and address their physical- and behavioral-health needs. And this housing will cost no more than 30 percent of a resident's income, or a minimum of $50/month.
Council members discussed the funding request at both their Feb. 7 and Feb. 14 meetings. At the first one – which was a work session – FCRHA Director Tom Fleetwood said the total support from that entity would equal "approximately $20.6 million over the first 30 years of the project" via upfront capital and long-term, rent-subsidy contributions.
And Fairfax Mayor Catherine Read said $825,000 is "a small amount of money" considering the overall project cost and the fact that it'll put a roof over the heads of 54 unhoused people.
The second meeting included a public hearing on this issue since the $825,000 was included in a City supplemental appropriation resolution for the third quarter of FY 23. Resident Laura Stokes, who lives near where the building will go, urged Council to approve the resolution and said she appreciated everything the City is doing to help the homeless.
The Lamb Center's Martin Lockerd thanked Read and the Council for helping "the poor people of this City. And the fact that you're putting up some money to help with affordable housing is applaudable. So many jurisdictions would throw up their hands."
Vicanzia Bonaspina said the project will help "people down on their luck. They have value and deserve dignity, and this will help get them off the street and into housing." And Saddam Al Salim said an investment now will "pay off in the future."
"The funds in the Affordable Housing Fund have languished for years with no plans for their use," said Judy Fisher. "Allocate them to The Lamb Center.
"This is a remarkable project, and it's a blessing that we have these funds available," added Julie Knight. "Using them now is an important contribution to move [this building] forward. But I also urge you to look at and support the needs of the service workers – teachers, public-safety personnel, etc. – who live in our City."
TLC Executive Director Tara Ruszkowski thanked the Council for its leadership. "There are lots of jurisdictions who talk about homelessness, but this is a community really addressing it," she said. "This is a City and Council of action; you're using every tool you have to help the homeless. We're so grateful for the way you're attacking the challenges we face as a community, and we look forward to working with you in partnership."
Deacon Dave Larrabee, who's served 24 years at The Lamb Center, said he's seen how "housing saves and transforms lives, and benefits the community. I've also seen many of our neighbors who've died on the streets, experiencing homelessness. Many homeless people have had trauma in their lives, and it's compounded by homelessness.
"Once in housing, I've seen them heal. And supportive housing ensures they get the assistance they need to thrive. They're also no longer a draw on emergency services, saving taxpayers money. I'm grateful to live in this community that cares about all of our neighbors. I urge you to vote in favor of this $825,000 investment. Thank you so much for all you do."
Ultimately, the Council approved most of it. Councilmember So Lim made a motion to reduce the amount to $700,000. "I'd also like the ability to help public-safety staff, teachers and people who work for us in the City with their homebuying and renting," she explained. "And this reduction won't hurt the project."
While this building is "hugely important," added Councilmember Kate Doyle Feingold, other nonprofits here wanted to know how they could have gotten some of this money too. But there wasn't a process."
Still, said Councilmember Billy Bates, "I believe we did the best we could, given the time frame and limited resources we have." Council then voted and approved the $700,000 contribution unanimously.