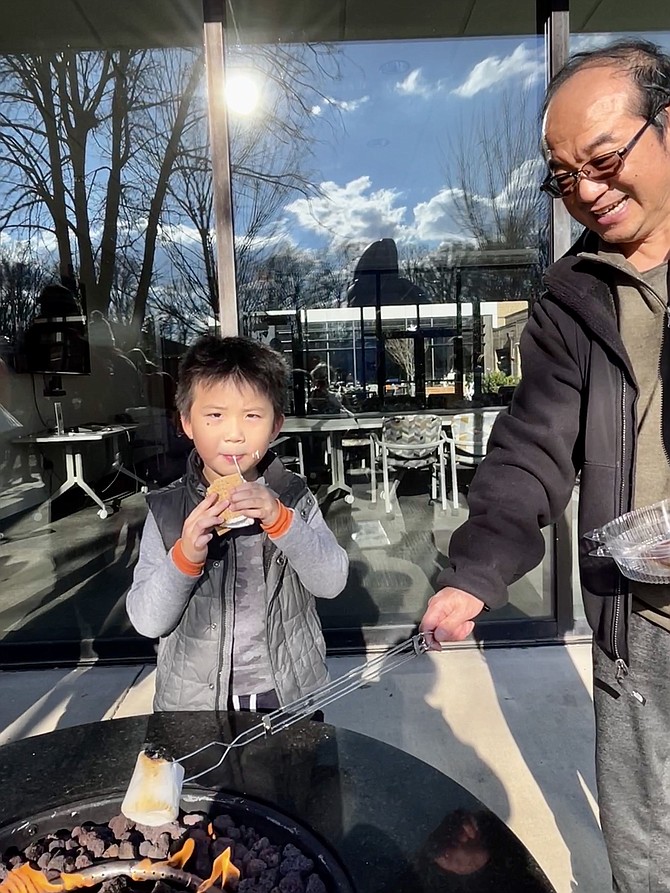 On Saturday, Jan. 7, hundreds of families from McLean and beyond attended the second annual Old Firehouse Winter Block Party held at the McLean Community Center.
"We're delighted to be able to host this event for the McLean community and to be able to see all ages and all types of people come together to enjoy themselves and connect with each other," said Betsy May-Salazar, the new executive director of the center.
Nothing could be sweeter than watching the children and adults roast 2-inch-tall, silver-dollar-sized marshmallows for s'mores over the numerous propane fire pits.
Ryan Duan, 5, of McLean, said he learned how to make the sticky treats while camping. Nearby, Autumn Reece, 7, of Falls Church, and her father, Adam, roasted a few more. "I love the chocolate and marshmallow," Autumn said. Logan Bechini, 8, of McLean, apparently agreed, thoroughly enjoying the sugary treat.
The cool weather proved perfect that afternoon for hitting the temporary skating rink — roller skating, that is. Zoey Shi, 4, of Great Falls, glided across the smooth plastic surface, transferring her newly learned ice skating skills to the rolling wheels. 
"Zoey started ice skating just two months ago," said dad Weidong, who let her go solo.
Axe throwing drew Viking wannabes Dylan Eaton, 6, of Alexandria, and his brother Dominik, 7. After aligning the shoulder of their throwing arm with the target, the children hurled the axes with one hand. More often than not, the Velcro-wrapped foam axes adhered to the bull's eye.
"Our goal at McLean Community Center is to be a place of connection and a place for people to relax, learn, play, and just get together and be with their neighbors," said May-Salazar. The event marked May-Salazar's fourth day in her new position as executive director.