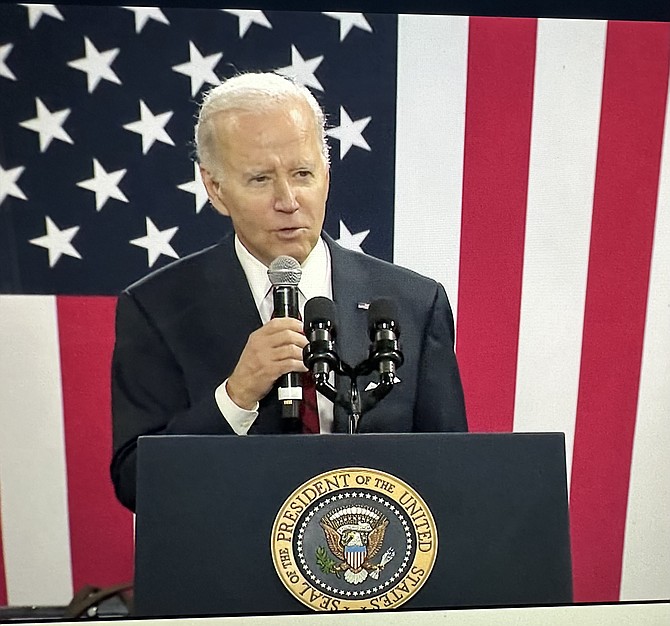 Springfield had a visit last Thursday from President Joe Biden. The visit was announced a few days prior at a White House Press briefing, for an undisclosed Springfield location. Press Secretary Karine Jean-Pierre shared that Biden chose our nearby suburb to deliver a major speech on the economy to steamfitter union workers who had benefited from his economic plan, following the good news of a 2.9 percent economic expansion in the last quarter.
In his speech, Biden shared recent evidence that his economic plan is working. He touted "a record of over 11 million jobs created, the two strongest years of job growth in history, 750,000 manufacturing jobs created, the lowest unemployment rate in 50 years, the best two years for small business applications on record, with annual inflation falling and wages rising over the last six months.
He contrasted those successes and his plan to build the economy "from the bottom up and the middle out" with Congressional Republican plans. Biden described the GOP plans as "fiscally demented" to include, cutting Social Security and Medicare, which Republicans deny; and to establish a 30 percent national sales tax to replace income tax. Republicans filed that tax bill, dubbed the 'Fair Tax Act', earlier this month, which Biden predicted would increase taxes on working families, taxing everything, including homes, cars, food, rent, and clothes. Saying that even the House Speaker who brought the bill to the floor has said he's not sure he's for it now.
Often referring to his middle class upbringing, Biden expressed the need to protect the economic gains evidenced in rising wages and declining inflation. He observed that for decades the middle class was hollowed out by jobs sent overseas. Trickle-down economics didn't trickle down to those with backgrounds like his father, who struggled to find work and then sold used cars, he said. "The wealthy still do well when the middle class does," he said. He decried efforts from 'Maga Republicans" in Congress to hold America's economy hostage, particularly by "having us default on American debt."
Biden highlighted efforts under his American Rescue Plan, under which 230 million Americans are fully vaccinated against COVID-19 and its economic stimulus providing needed local funds. Under his Bipartisan Infrastructure Law, last year 700,000 major construction projects including highways, tunnels and broadband were undertaken in cities of all sizes. Biden added the projects will provide jobs both for those with and without college educations. 
Noting the U.S. has the highest prescription drug prices in the world, the President pledged to capitalize on the federal research contributed to drug manufacturers with additional caps on drug prices. The Inflation Reduction Act caps monthly costs for insulin at $35 for Medicare Part D beneficiaries. Biden said he will try again for a broader application of insulin cost caps for all insulin users this year.
Steamfitters UA Local #602 represents the Journeymen, Apprentices and Helpers, who work in the Heating, Air Conditioning, Refrigeration and Process Piping Industry in the Washington, DC Metropolitan area.