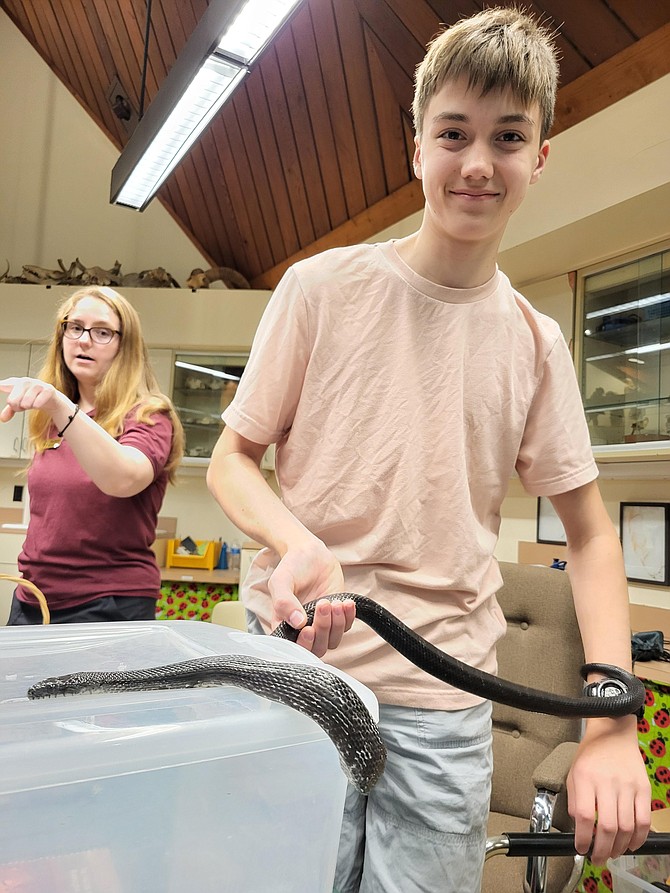 Huntley Meadows Park is one of the few wetland parks in Fairfax County so they celebrated recently with a Wetlands Awareness Day on Sunday, May 7 (even though the real Wetlands Awareness Day is in February). In Northern Virginia, the weather in February is not always good for outdoor activities, so they made it an east coast version.
The main aim of Wetlands Day is to spread information about how valuable wetlands are, and encourage people and governments to take action to preserve local wetlands. Recognizing this, the U.N. decided to formally institute World Wetlands Day on the day it had been celebrated by environmentalists, Feb. 2, their information stated.
At Huntley Meadows, the park was set up with various stations along the path and volunteers with the Friends of Huntley Meadows manned the stations, giving lessons throughout the day. For the children, they learned about the park and got a stamp that was later turned in for a prize.
The stations were focused on topics such as beavers, foxes, coyotes, insects, birds, reptiles and amphibians. All these animals have been seen at the park. There is a system of trails through Huntley Meadows and a nature center, and all the stations were located in these venues. One message in common was the need to protect this wetlands park and the habitats that are in it.
According to the Environmental Protection Agency, the wetlands play a valuable role in water quality, storing flood waters, providing habitats for the birds and animals and just being a place where nature can go on like intended, despite the encroaching development. An acre of wetlands can store as much as 1.5 million gallons of floodwater. Up to one-half of North American bird species nest or feed in wetlands, the EPA said.
Huntley Meadows Park encompasses 1,500 acres of wetlands, meadows and forests. There is a boardwalk, trails and a nature center, and two entrances – one on the Telegraph Road side and the other on the Richmond Highway side. Beware though, Huntley Meadows is a natural environment, with not a lot of parking. The parking lot was closed off for the event and the alternate parking lot was about one mile away, a major effort with strollers and small children.