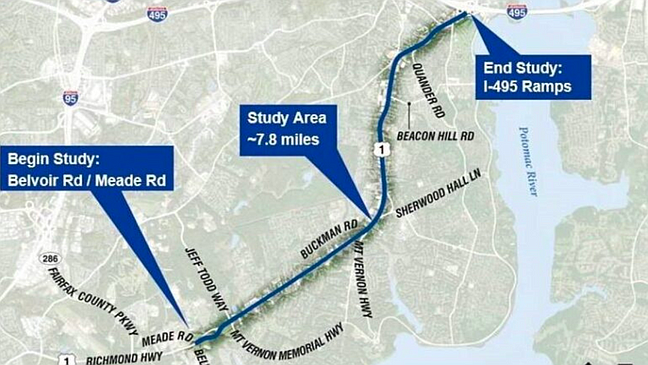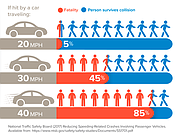 Last week, the Virginia Department of Transportation (VDOT) publicly announced the official change of the speed limit from 45mph to 35mph on a seven-mile stretch of Richmond Highway (Route 1), between Jeff Todd Way and the Capitol Beltway. On Tuesday, May 23, new signage was installed and the change went into effect. This is a long-awaited change that I, as your Delegate, am fully in support of. Here's why.
Area of VDOT Study
VDOT conducted a speed limit study at Fairfax County's request in August 2021 between Belvoir Road and the I-495 ramps, due to mounting concerns about pedestrian and vehicular safety, including several pedestrian crashes that resulted in pedestrian fatalities. During the study period, VDOT held two virtual public meetings to review the study and its preliminary results in November 2021 and July 2022. VDOT approached this study in an exceedingly transparent way, holding comment periods ahead of and immediately following each public meeting for residents to share their positions on potential changes. Based on the comments of residents who weighed in, a majority of the public favored lowering the limit. These meetings were also recorded and are available on the project website. The study provided recommendations, endorsed by Fairfax County Police, that the speed limit on Richmond Highway between Jeff Todd Way and I-495/I-95 be reduced from 45 mph to 35 mph while the speed limit between Belvoir Road and Jeff Todd Way be maintained at the current 45 mph. This recommendation and subsequent public support is a departure from a 2007 VDOT study that examined lowering the Richmond Highway speed limit. At that time, VDOT failed to recommend any change and the public voiced their opposition.
Crash records for Richmond Highway analyzed during the study (from 2016-2020) were significantly higher than the statewide average. For this stretch of Richmond Highway, during this period, there were 1,203 crashes, including 404 injury crashes and 9 fatal crashes, of which 7 were fatal pedestrian crashes. Just this year, there have been at least 102 vehicle crashes on the Fairfax County section of Richmond Highway, injuring 75 people, according to state data. In March, a 36-year-old woman was tragically killed while simply walking on a sidewalk along Richmond Highway in Groveton after a car hit an SUV and spun off of the roadway, killing her. Fairfax County police noted in their report that speed was a factor in the crash that caused the pedestrian fatality.
Many residents in our community rely on walking, cycling, and public transportation to get around. The study noted that while pedestrian crossings are present at all but two of the 30 signalized intersections along this stretch, sidewalk facilities are sporadically located and are often disconnected and do not provide a continuous pedestrian access network through the length of the corridor. A significant number of the unsignalized intersections within the corridor do not have marked crosswalks and there is often a considerable distance between marked crosswalks. Many bus stops along the corridor are not located adjacent to crosswalks. This combination of factors results in a significant number of locations where pedestrians cross without signalization. In addition, no dedicated bike lanes are present on Richmond Highway north of Jeff Todd Way. With the noted limited pedestrian and cycling-friendly infrastructure on Richmond Highway, we must do more to ensure their safety on the roadway.
Survival rates of pedestrians hit by a car increase significantly when speeds are lowered from 45 to 35 mph: from four survivors in ten to seven in ten as documented by the highly respected AAA Foundation for Traffic Safety. For pedestrians over age 70, the survival rate increases from two-in-ten to five-in-ten when the speed limit is lowered to 35mph.
Improving road safety, including minimizing pedestrian and cyclist crashes, is a multifaceted issue that will take work and cooperation from our state and local leaders, law enforcement, and the public. Reducing the speed limit along this portion of Richmond Highway is an important step towards this goal. While not analyzed during this study, Richmond Highway will see significant change during the next decade with the completion of the Route 1 Widening Project in 2028 and the Bus Rapid Transit (BRT) in 2031. Many pedestrian and cycling improvements will be included in both of these projects to accommodate increased safety for our growing community. In the meantime, pay attention to your speed and keep your eyes on the road. Arriving at your destination a few moments earlier is not worth losing your life or ending someone else's.
If you are interested in reviewing the complete results of the VDOT speed limit study, you may do so on the study website at https://www.virginiadot.org/projects/northernvirginia/route_1_speed_limit_study.asp.