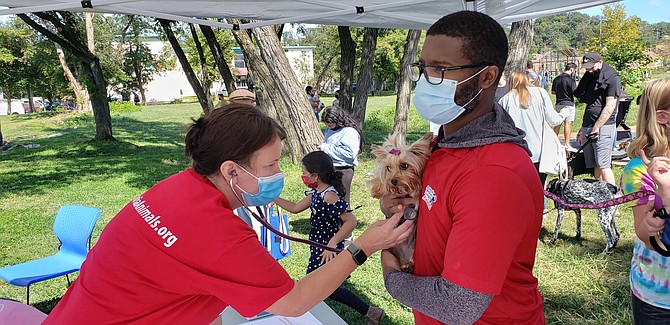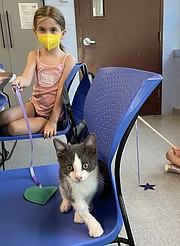 Throughout its history and evolution, the Animal Welfare League of Alexandria (AWLA) seeks to provide an easy-to-cross bridge between animals and Alexandrians. Especially in recent years – since a global pandemic illuminated the importance of community – the AWLA has been hyper focused on eliminating any barrier that would prevent anyone from walking through its doors. 
Whether you are going through the steps of animal adoption or are attending an educational program, the AWLA team wants you to feel at home.
Over the last several months, the AWLA has taken steps in a brand new direction to ensure that they provide the most "open arms" environment possible. Setting a precedent for animal rescue groups everywhere, the Animal Welfare League of Alexandria last month became the nation's first ever animal welfare organization to become a Certified Autism Center – a designation awarded by the International Board of Credentialing and Continuing Education Standards (IBCCES).
The IBCCES – an independent credentialing organization that provides specialized training and certifications to professionals who work with people who have autism and other cognitive challenges – officially awarded the AWLA with this accolade in April, following four months of training and preparation.
"Inclusion and access have long been priorities in the work we do, and for many years, the AWLA has worked to identify ways we can improve and develop our programs and events," Joanna Fortin, AWLA Director of Community Programs, said. "We began work on this project last year after learning of the Certified Autism Center designation program. And now that we've reached our goal, I can say the greatest benefit of being a Certified Autism Center is that we are better prepared to welcome, include, and support all members of our community."
As a Certified Autism Center, the AWLA collectively has the knowledge and the resources to consistently meet the experiential needs of people with autism and other sensory sensitivity conditions. 
Whether a neurodivergent individual is visiting the shelter or participating in one of the AWLA's many educational or community programs, the Alexandria non-profit now has the strategies and resources in place to provide full support. 
"While animal shelters can be fun, exciting places where wonderful things happen, we are aware that there can be lots of sensory stimulation, such as dogs barking, smells of cleaning products, and lots of animals and people moving around," Fortin said. "Our team feels better equipped to support sensory-sensitive and neurodivergent community members now, so visitors can feel confident that staff have been trained to accommodate their potential needs and that they are welcome to visit, adopt, foster, or volunteer with us."
The AWLA leadership team reached out to the IBCCES last year to pursue this certification because they realized that there was a significant portion of the local population who, as a result of living with autism or other sensory processing disorders, couldn't seamlessly access community animals. 
The organization's decision-makers could no longer just sit back knowing that there were just too many hurdles – and fixable ones – between the AWLA and so many people who would make fantastic, loving pet owners.
There was excitement and enthusiasm on both sides when the AWLA first approached the IBCCES in December of 2022.
"The AWLA reached out to us to pursue certification because they recognized the importance of improving accessibility and inclusion at their location and wanted to better understand and serve the public as they work to achieve their mission," Natalia Gonzales, IBCCES Marketing Manager, said. "We're very excited for them to lead the way for this type of initiative for other organizations in their field."
The AWLA chose to pursue this particular certification because of the IBCCES's national reputation and influence. 
"The IBCCES seems to be one of the more widespread programs and a lot of organizations who get credentialed through them are aquariums and amusement parks – so venues that see a lot of traffic and have great community engagement," Fortin said. "We also appreciate that they have a great, accessible website where families can search for organizations that are Certified Autism Centers."
The AWLA had to make procedural changes as well as certain adjustments to its facilities. Also the AWLA facility is also now fully stocked with the right tools and resources for potential new visitors. 
"We worked to integrate options and accommodations throughout each visitor's experience," Fortin said. "We offer sensory bags with items that can help reduce overstimulation or sensory overload, such as noise-canceling headphones, sunglasses, and fidget tools. We also provide low-sensory, quiet locations within our shelter where visitors can decompress and take a break from the excitement and noises of the shelter."
Fortin added that the AWLA is also committed to providing virtual meetings with adoptable animals when it is necessary. 
To earn accreditation, the AWLA had to put 80 percent of its public-facing staff and volunteers through the IBCCES training and certification program. The AWLA did the IBCCES one better, though: 100 percent of its public-facing staff and volunteers participated, gaining in-depth understanding of how to best assist and relate to people with sensory sensitivity. 
"Members of our team completed training of varying lengths and depth depending on their role," Fortin said. "Each training culminated in a quiz to confirm understanding of the material that the IBCCES presented. Then, once everyone completed training, we were awarded the Certified Autism Center designation for a two-year period."
Fortin said that being a Certified Autism Center will bring indisputable benefits to the AWLA – and to everyone in the community. With more potential volunteers, adopters, and fosters out there, the animals in the AWLA's care has a greater chance of finding homes. Also, people with autism and related disorders now can either volunteer or simply visit with animals. 
"We really hope this new development will increase adoptions," Fortin said. "One of the things we learned in our training is that a lot of families with someone on the autism spectrum must do a lot of planning before they act on any big decision. Hopefully we've made planning for pet ownership a lot easier for people … Animals can provide a vast array of benefits for many individuals with autism, including connection and relationships that improve wellbeing, build social skills, and increase a person's sense of community."
The impact of the AWLA becoming a CAC has already rippled beyond Alexandria to make some big waves. The move has already started some important conversations among other animal rescue groups in Northern Virginia.
"We have already heard from a few regional partners that they have had conversations around it," Fortin said. "We hope to inspire others to do this, whether or not it is through this particular certification. As we continue to work through this and have people come in and utilize accommodations, we will be able to share these lessons with other people. We also hope to learn from others in general – to collaborate on a big scale to make animal shelters in general more available and welcoming to everyone. We want to be a part of the dialogue however we can be."
To learn more, visit https://alexandriaanimals.org.