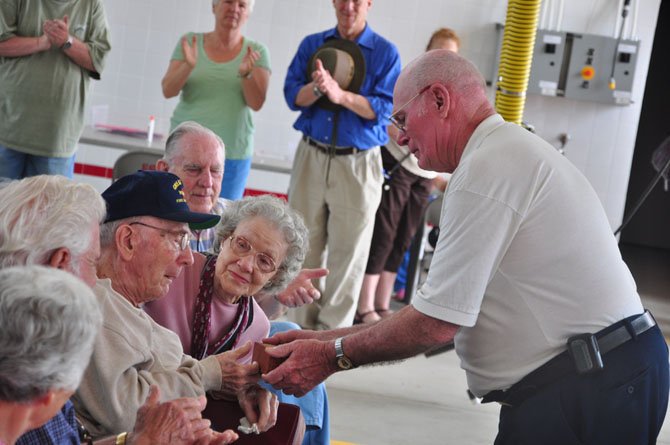 Past Great Falls Volunteer Fire Chief Homer Johns presents Milburn Sanders, who joined the department 70 years ago, with a brick from the original station Saturday, May 5.
Stories this photo appears in:

Was founding member of Great Falls Volunteer Fire Department and Great Falls Historical Society.
Sanders, Milburn Page, 90, of Great Falls, died on Sunday, Sept. 2, 2012. A retired civilian U.S. Naval Department employee, Mr. Sanders was a native of Great Falls, born there when the area was known as Forestville.

New firehouse hosts anniversary celebration.
Milburn Sanders, 90, joined the Great Falls Volunteer Fire Department (then known as the Forestville Fire Department) seven days after it opened on May 5, 1952. Seventy years later, he was part of the celebration at a new building, with generations of volunteer and career firefighters that came after him.