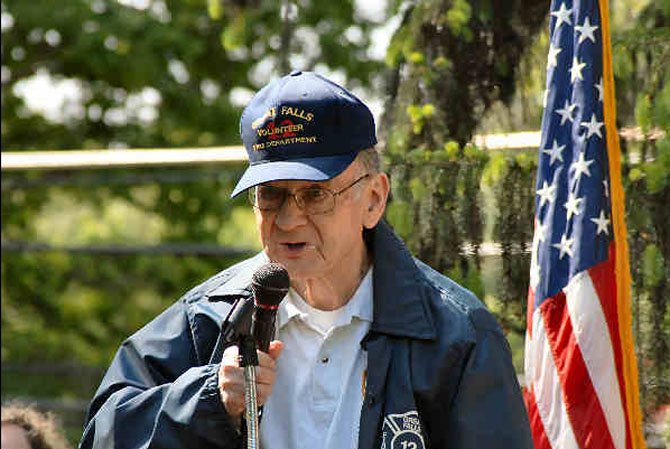 Sanders, Milburn Page, 90, of Great Falls, died on Sunday, Sept. 2, 2012. A retired civilian U.S. Naval Department employee, Mr. Sanders was a native of Great Falls, born there when the area was known as Forestville.
A founding member of the Forestville Volunteer Fire Department, now the Great Falls Volunteer Fire Department, Mr. Sanders served as secretary for 55 years and took part in the Fire Department's 70th anniversary celebration in May 2012. His service to the fire department was recognized in 2006 through the dedication of an ambulance in his name and an award of appreciation for 60 years of dedicated service. Mr. Sanders also served in the Navy in World War II as a senior yeoman on the USS Onslow, a seaplane tender in the Pacific Theatre. He was honorably discharged in March 1946 and returned to the Naval Department as a civilian employee, where he had been employed before the war. He worked for the Naval Department for more than 30 years, then retired and worked for several years as a technical editor for various government contractors.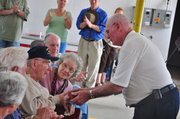 As a life-long citizen of Great Falls, Mr. Sanders developed an intense interest in local history and was a founding member of the Great Falls Historical Society. He was the first recipient of the Great Falls Historical Society's Jean Tibbetts History Award, recognizing his research and published works of Great Falls and Fairfax County history. He served on the Fairfax County History Commission for 17 years as the Dranesville District representative and was honored by the Fairfax County Board of Supervisors for his service with a plaque and ceremony in 2006. In 2009, he received a lifetime achievement award at the Fairfax County History Conference for his many contributions and dedication to preserving Fairfax County history. He was also a life member of the Fairfax County Historical Society. Mr. Sanders has written a comprehensive history of Great Falls, which is currently being prepared for publication by a local publishing company. Mr. Sanders served for many years as a volunteer park ranger in Great Falls Park, leading guided walks through the historic site of the town of Mathildaville, where George Washington initiated an unsuccessful effort to establish a canal system along the Potomac River. A life-long writer and editor, Mr. Sanders has published two books, One Man's World War II, a history of his experiences on the USS Onslow in the Pacific Theatre, and Reflections, a collection of poetry. Mr. Sanders is survived by his wife of 62 years, Ellen; his son, Karl Sanders; daughter Lisa S. Anderson; sister Betty Smith, of Manassas; three grand-daughters; two great grandchildren; and numerous nieces and nephews.
Funeral service arrangements will be posted on the Adams-Green Funeral Home's web site at www.adamsgreen.com or call 703-437-1764 for details.