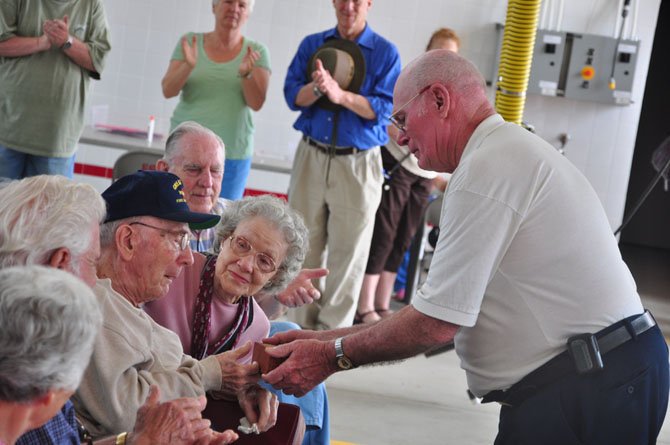 Great Falls — Milburn Sanders, 90, joined the Great Falls Volunteer Fire Department (then known as the Forestville Fire Department) seven days after it opened on May 5, 1952. Seventy years later, he was part of the celebration at a new building, with generations of volunteer and career firefighters that came after him.
"The Volunteer Fire Department is a lifelong tradition in many American communities," said current Volunteer Fire Chief Frank Smith. "It's an icon this community can be proud of."
The fire department was established as an auxiliary to the McLean Fire Department. On Nov. 7, 1955, the name was changed to Great Falls.
The station opened up to the community Saturday, May 5, hosting families that wanted to explore the station and various rescue equipment.
The Volunteer Fire Department deeded the land the station is on to the county in 2007 and assisted in the planning, financing and construction of the new station.
"The Volunteers had a huge role in making this facility happen, and we at the county extend our appreciation for their contributions," said Supervisor John Foust (D-Dranesville).
"One of my favorite things about this fire department is they're always so open with us, letting kids come in a play around the vehicles and explore the building," said Jeff Bronson of Great Falls. "It really makes this a community spot, and we're always happy to show up and support the men and women who keep us safe."
Smith also made sure to recognize the volunteers who staff the station, thanking them for their hours of training and on-duty time.
"It's not a seasonal pastime," Smith said. "Firefighters train anywhere from hundreds to thousands of hours."
The ceremony also featured presentations to VFD President Joan Bliss and past Volunteer Fire Chief Homer Johns from the Great Falls Optimist Club, thanking them for keeping the VFD involved in their many community events.
Wendy Adeler, who presented Bliss with her award, called her an "example of how to be charitable with her time, skills and an example to me as a young mother, how to find time for my family and my community."