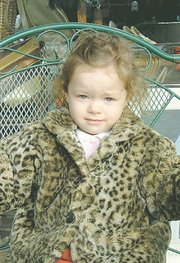 Two-year-old Laila Bolte runs through the maze of racks in Vogue Vintage and straight into the arms of a customer. The customer picks her up and gently plays with her. In this store, Laila is known as "the boss."
"People come into the store to see if she is here and how she is doing," said Afifa Bolte, Laila's mother and owner of Vogue Vintage at Lake Anne Village Center. She said people come into the shop for many reasons, to talk about anything in life and have a cup of tea.
"It's like Cheers without the alcohol," said Andrew Bolte, Afifa's husband and co-owner of the store.
But when all is said and done, Vogue Vintage is a shop and people go to the consignment store to find vintage handbags, dresses, shoes and jewelry. "In here it's the variety," said Afifa Bolte. "We have brands from all over the world and nothing that you can see in the mall."
Lisa Connolly, the customer who took Laila into her arms, said she enjoys the personal attention she gets at the store. She continues to shop there even after moving out of Reston. "I love shopping here. It really feels like a really friendly atmosphere," said Connolly.
The store is located on Washington Plaza at Lake Anne Village Center. Even though Lake Anne is Reston's first village center, in many ways it remains unknown to the greater Reston and Northern Virginia area. In an April interview, Reston founder Robert E. Simon, Jr., said Lake Anne is Reston's "hidden treasure."
THE SHOPS at Lake Anne struggle at times to attract a large customer base. This holds true during periods of bad weather, when the potential clients do not have inclinations of visiting the outdoor plaza. People living at or near the plaza are in the process of determining the best way to revitalize the area. However, the shops at the village center are counting on their ability to provide personal attention to the shoppers, and the products they are selling, to attract clientele during the holiday season.
Nana Grigoryan, owner of Oganes Jewelers at the plaza, said the products in the local shops are unique and each shop provides customers the desired personal attention. "Here, it's really personal," said Grigoryan. The jewelry shop she and her husband own customizes pieces per customer requests, all of which is done on site. "We do everything here in the store," she said.
Nestled next to Vogue Vintage is Small Change, another consignment shop. Owner Susann Gerstein displays locally made dolls at the front of the store. They are handmade and knitted. Gerstein said they are some of the fastest selling products in her store. "Toys are tricky in this market," she said. The store also sells new hand knit baby blankets.
Small Change is getting ready to celebrate its 26th anniversary on the plaza. Gerstein said the stores at Lake Anne have become neighborhood institutions. "There is a special neighborhood feeling about the whole plaza," she said.
A stone-throw away from the two consignment shops is the Reston Used Books store. Julie Lehman, an employee of two-and-a-half years, said the store never gets too crowded, offering a respite from the usual hectic holiday shopping experience. Dominic Lanzone, another store employee, agrees. "It is a place to rest," he said.
There is also a certain feel to the store, said Lehman. "It doesn't have that generic flavor" that stores in Reston Town Center have.
The bookstore offers volumes of hand-me-downs of all genres and types of books. Only books authored locally are available as new editions. Lehman said people should consider books for holiday gifts for their value as more than objects. "It's not just an object, it's a world you enter. It's very alive," she said.
"You can have a relationship with a book," said Lanzone.
A sale on coffee table books will be a part of the holiday special. The 30 percent discount on those books comes on top of already reduced prices. "It's already a good deal," said Lehman. The other special in the store is the collection of scarves that Lehman knitted herself. She had been knitting them since third grade, and last year she sold about 50 of them in the store.
THE PLAZA is also home to an important community resource center, the Reston Museum. It offers a viewing opportunity of Reston's past and a collection of locally made products on its shelves. They include arts and crafts, gift cards, music and books on Reston's past and future as written by its residents. Sweatshirts and other clothing with Reston emblems are also available. "It's a good way to support local artists," said Sophia Bessie, a volunteer at the museum, about buying the products there. She said people should consider Lake Anne for holiday shopping because of the area's beauty. If the weather is not too cold, she said, a walk around the lake would be a perfect way to break the stress of shopping for loved ones.
Another way of taking a break is to visit some of the restaurants on the plaza. A choice between Moroccan, Cajun, French and Vietnamese food is included in the variety offered on Washington Plaza. "The restaurants are really wonderful," said Bessie.
The Lake Anne community will welcome the holiday season on Saturday, Dec. 1, from 10 a.m. to 1 p.m., with ornament making for children, a petting zoo, live performances and Santa's arrival by barge at 12:30 p.m. For more information on the celebration visit LakeAnnePlaza.com.