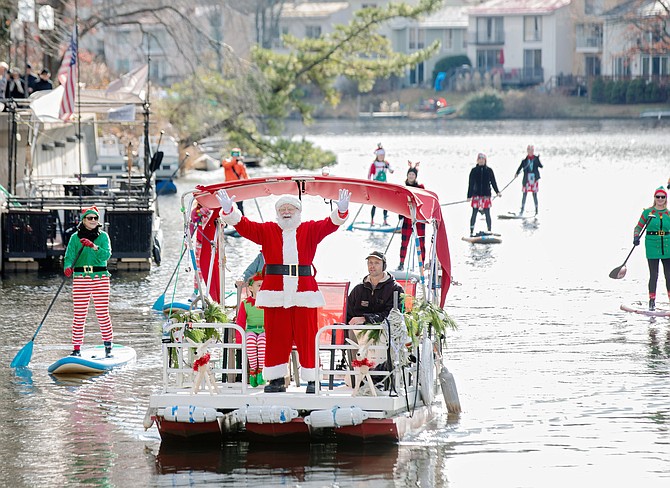 Much to the delight of local families, the Lake Anne Washington Plaza Merchants Association hosted its classic holiday event, "Jingle on the Lake," Saturday, Dec. 7. Santa Claus made his arrival at noon by pontoon boat, escorted by Grand Marshal and Reston resident Susann Gerstein. She closed her shop, Small Change Consignment, located on the plaza, in the summer of 2019, after a nearly 38-year run.
Families, especially those with small children, came early to Jingle on the Lake. They participated in cookie decorating with Teapot & Cake, a custom cake boutique on the plaza, heard the holiday music performance by Good Shepherd Adult Choir, and did a little shopping at the Reston Farmers Market and Reston Craft Market.
All day long, families had the opportunity to visit the Lake Anne Plaza stores, see the exhibit, "Live, Work, and PLAY! Toys of the 1960s" at the Reston Historic Trust & Museum, and pick up a letter to write to Santa and mail to him at the North Pole Mail Service inside Chesapeake Chocolates.
Precisely at noon, Santa Claus' pontoon boat floated toward the plaza dock, clear skies overhead and a soft breeze at his back. Escorted by his friendly team of stand up paddle boarding elves, the jolly old man waved to hundreds of fans, deboarded Santa Pontoon One, and settled down not by "the chimney with care" but on one of the park benches on the plaza.
Santa welcomed all who believed in the magic of the holiday season to join him for a chat. Among the hundreds of believers who visited Santa at Lake Anne Plaza were: Clive Richardson, 5, and Robert, 4; parents Glenann Godden and Eric Kemp of Reston and their sons, Grey Kemp, 4, and Clark, 18 months; parents Amina and Vetha Kai with their children Maanik Kai, 4, and Caspian Kai, 16 months; Calia Pesce, 6, of Reston; and Kenny Demick, 6, of Reston with Miles Biers, 6, of Herndon.