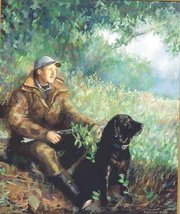 South Arlington has fallen behind its northern counterpart in several areas, art space being one of them. But a local group is out to change that.
The Arlington Artists Alliance is seeking to bring fine arts to the bottom half of the county by hosting an all-day arts festival.
The festival is the inaugural Barcroft Arts Fest and it is being held at the historic Barcroft Community House later this month.
Cecily Corcoran is an artist who will be showing her work at the festival. She paints representations of local scenery using mostly oils and acrylics.
Corcoran said that she is grateful that the Arlington Artists Alliance is finally putting on a show in her part of the county.
"I live in that area, so I'm a South Arlington person," she said. "It means a lot to be able to reach out to the community that way. We really want to become more diversified."
Jane Coonce, president of the Arlington Artists Alliance, said that her group, which has been in existence for almost a decade, is hoping that the Barcroft festival will help to expand its membership, which now numbers at more than 100.
"One of things we hope to do," Coonce said, "Is to find more artists in South Arlington that would like to join."
She said the alliance, which was started as a way to give local artists space to show their works, is focused mainly in North Arlington because that is where most of its members reside and, consequently, that is where most of its exhibitions take place.
"We're just trying to get ourselves known throughout the county," Coonce said.
FRAN BELL SIMMS, the curator of the Barcroft Art Fest, said that she believes the Arlington Artists Alliance is mainly focused in North Arlington because it has a regular monthly exhibition at Cassatt's Restaurant on Lee Highway.
Simms, a charter member of the alliance, said that she believes her group must head south in order to expand.
"To represent Arlington," she said, "we need to have artists from all over, not just [from] our corner."
The Arlington Artists Alliance will be trying to entice southerners to join their ranks with visual works of all sorts. Oil, acrylic and water color paintings will share space with woodworking, ceramics and other pieces of homemade creativity.
"We give people an opportunity to exercise another part of their brain," Simms said. "There are lots of folks in Arlington who do engage in art. There's no reason why we have to go to Alexandria and the Torpedo Factory to do it."