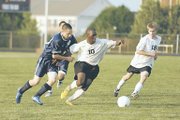 It has been a transition season of sorts for the Potomac Falls High boys' soccer team. While the Panthers still have several experienced players from there Region II title teams of recent seasons, including the sensational Uche Onyeador, there are also a number of newcomers to the outfit.
Through six games, Potomac Falls held a respectable 4-2 overall record, but was 2-2 in the Dulles District. For a team that has captured three straight district crowns, a .500 mark in the district is a little surprising.
But, as head coach Dave Gryder said recently, "With so many new starters and faces, it's not totally unexpected. We've lost 14 players from last year. We have three starters back from last year."
Potomac Falls' district wins have come over both Freedom and Dominion High Schools, while the setbacks came to Heritage and Loudoun County.
The home loss to County, an overtime setback, was particularly disappointing because the Panthers held leads of 1-0, 2-1 and 3-2 throughout the night.
Potomac Falls, with all of its new players being asked to make contributions, is going through a transition period. The Panthers have three seniors, three juniors, four sophomores and a freshman making up their starting line-up.
"A lot of these guys starting for us are young and inexperienced," said Gryder. "But I feel very good about where we're going right now. The team is getting used to each other and [players are] gaining confidence in their positions."
Gryder said Potomac Falls, despite having lots of new players, gets everybody's best shot. Opponents want nothing more than to knock off a team that has three straight district and region championships to its credit.
"We're going to get everybody's best competition," said Gryder. "[Our guys] realize that wearing that [purple and white] uniform means a lot to [opponents] also. "The guys are getting acclimated to what it takes and hopefully at the end we'll be in the mix."
<b>THE WINS</b> over Freedom and Dominion, both at home, were by 6-0 scores. The Panthers also have a shutout win over George Mason High School, 2-0.
Onyeador, a forward who has already committed to play at Georgetown University next year, had scored 11 goals through six games this spring. Junior Joe Baires, also a forward this season after having played in the midfield last year, had seven goals.
Onyeador needs 13 more goals this season to break the Virginia state record for goals in a high school career.
"It's been a harder year for him," said Gryder. "He was being double and triple teamed. I think he's adjusting to that and realizing he has to use his teammates."
The Panthers have received a nice boost from senior Alex Borowski, who began the season as a midfielder before being switched to defense when Gryder realized his back line needed more help. The position switch was made following the loss to County.
"We were giving up goals we don't usually give up," said Gryder. "We said we have to [tighten] this up. We moved him back.
"He's done an awesome job as a leader and he's showing [his teammates] what to do in the formations we run," said Gryder.
Potomac Falls had a busy schedule this week with a make-up game against Park View on Monday and a contest at Broad Run on Tuesday. This Friday, the Panthers will host Briar Woods.