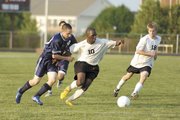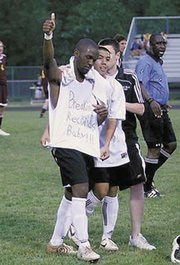 Now, looking back, it's almost impossible to comprehend how dominant a force Potomac Falls High boys' soccer player Uche Onyeador was over his four years with the Panthers.
Onyeador, Virginia's all-time leading high school goal scorer who is headed to Georgetown University on a full-ride scholarship, made his mark in a big-time way in Dulles District, Region II and state AA competition over the past four years.
"His role was to score," said Potomac Falls soccer coach Dave Gryder. "That's why he got a scholarship and all the awards."
Onyeador, who recently graduated with his Potomac Falls senior classmates, finished his high school varsity career with 127 goals, more than any player at any Virginia division level — triple-A (larger schools), double-A or single-A. He tallied 28 goals as a freshman, 31 as a sophomore, 42 as a junior and 26 this past spring as a senior.
The star forward was a three-time, First Team All-State, All-Region and All-District selection throughout his career.
In his senior season, Onyeador was playing on a Panthers' squad that had lost 16 players from the previous year's Region II champion. Every opponent, game-in and game-out, put a majority of their attention on slowing down Onyeador, who did not have the benefit of having the same amount of experienced and talented players around him as he had in prior seasons.
Although Potomac Falls was not able to repeat as district champs (the Panthers finished third in the district), Onyeador and his teammates competed as hard as ever.
"He was a huge factor to our success," said Gryder, who expected going into the spring season that the Panthers would not be as dominant. "We strived to be district champs, but as young as we were, it was a hard task. I couldn't have asked for anything more from Uche as a leader."
Onyeador, who finished his career with 46 assists, always worked extremely hard to better his game. Along with his God-given abilities, he has displayed a passion and hunger to be the best he can be in the sport he loves.
"He epitomized [the results] of working hard every day during the season and out of season," said Gryder. "He did not miss practices and was probably our hardest worker even though he was the best player in the state."
Onyeador's 26 goals as a senior led the district and region in scoring, but it was the lowest goal total of his career. Gryder said that was partly the result of having a lesser-experienced team around him.
"He's had a remarkable career for playing in such a diverse team-type sport," said Gryder. "A lot of people don't dominate soccer."
<b>ONYEADOR</b> broke the state's all-time scoring record during his team's 4-3 district overtime home win over Broad Run late in the regular season. The score, incredibly, came on a shot from midfield off the re-start of play moments following a Broad Run score. The high, lofting shot got into the net just under the cross-bar, causing a spontaneous celebration by the large number of fans in attendance. It was Onyeador's 125th career goal, breaking the record of 124 that had been set in 2004.
Teammates, Broad Run players and coaches congratulated the Panthers' star as play was temporarily halted following the record goal. Onyeador was presented with the record-breaking ball.
Onyeador was a coach's dream, not only because of his physical talent and desire to be a great player, but because of his coachability.
"He's very coachable and well liked by teammates, and also respected by opponents and coaches," said Gryder. "His teammates respect him. He's willing to learn and do what he's asked. He doesn't think he knows it all. He's different whereas he's willing to do what you ask of him and push himself."
In the classroom, Onyeador carried a strong 3.0 grade point average throughout his high school career. He enjoyed school and his classmates.
"For teachers, administrators, he's one of those kids who comes with a smile and is warm to you," said Gryder. "He's going to Georgetown, a high academic school. He's not just going there as an athlete, but for the academics. He's very humbled about getting a full ride. He knows what is expected."
Onyeador will play under coach Brian Weise at Georgetown.
"Coach Weise showed a lot of confidence in me," said Onyeador, who verbally committed to play for the Hoyas last November before eventually signing his letter of intent. "He believes in me and believes I can be an important part of the team. That and playing in the Big East [Conference] swayed my decision."
During his career at Potomac Falls, Onyeador was part of a Potomac Falls program that won the state AA title two years ago when he was a sophomore. As a junior, the Panthers, led by Onyeador again, won district and region crowns before falling at the state quarterfinals.