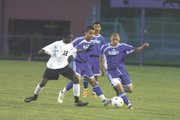 Going into this week's action, the Park View High boys' soccer team carried an impressive 9-2-2 overall record (7-2-2 Dulles District record). The Patriots entered the week tied for second place in the district behind first place Heritage.
"I think we're playing pretty well," said Park View coach Arturo Jimenez.
The Patriots lost early season district games to Heritage and defending district champion Potomac Falls. In their second meetings against those same opponents, Park View earned ties. The Patriots trailed Potomac Falls 3-1 before fighting back to earn the stalemate with a couple of goals over the game's final 10 minutes.
Dave Gryder coaches Potomac Falls, the three-time defending district champions. The Panthers have one of Virginia's best-ever players in senior forward Uche Onyeador.
"They're a good, established program," said Jimenez, of Potomac Falls. "Coach Gryder has done a fabulous job. They have guys like Uche who can score any time."
<b>JIMENEZ</b>, who coached the Park View girls' team in 2006 and 2007, brought a style of possession soccer to the Patriot boys this spring. And the team has grasped the strategy and system well.
"The kids wanted to play the style I taught to them," said Jimenez. "They like to play that possession ball game, and not kick and run. We're getting everyone involved when we can."
Nine different players have scored goals this season for the Patriots.
With the district tournament just around the corner, it would appear numerous teams have good chances of winning the title. The frontrunner teams are first place Heritage, along with Park View, Potomac Falls and Broad Run. But Jimenez said a handful of other teams, such as Loudoun County, Briar Woods and Freedom, could also make runs. Jimenez and his players certainly believe they have a good chance to play well at districts.
"I think we can make a good run for the district," said the coach. "I also think every other team in the district is pretty good."
Its team captains –seniors Kevin Santos and Alex Valasco, and sophomore K.C. Onyeador – have led Park View this season. One of the team's better scorers has been Pedro Mendoza.
The bottom line for Park View is that it has been successful this spring because of its overall team play.
"It's just a combination of everybody," said Jimenez.
Park View was scheduled to play district games this week against Broad Run on Tuesday and against visiting Briar Woods on Friday night. Next Tuesday, the Patriots will wrap up the regular season with a contest at Freedom.