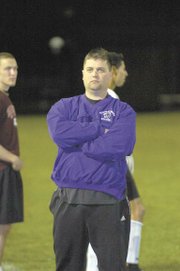 The Potomac Falls High boys' soccer team has created quite a high standard for itself to live up to with its phenomenal success over the past several years.
The Panthers have captured both the Dulles District and Region II titles each of the past three years, and also won the Virginia State AA crown two years ago in 2006.
"We've had a great core of guys who have been motivated to do well and play as hard as they could each and every day," said fifth year Potomac Falls coach Dave Gryder. "They've practiced as hard as they can and worked as a team."
The coach said his Potomac Falls players have not put their own individual accolades or goals ahead of the team. `Team' has come first for the Potomac Falls program, and that is a huge reason the Panthers have gone 62-4-3 over the last three years.
Last year's Panthers' team went 18-2-2 and advanced all the way to the state AA quarterfinals before seeing its season end with a loss to Jamestown (Williamsburg).
Potomac Falls enters this season, once again, as the team to beat in the tough Dulles District. The Panthers, who were not able to play any scrimmage games as a result of poor weather, recently opened up their season with a commanding 8-0 win over non-district opponent Manassas Park.
"I think we looked very good for the first game of the season," said Gryder. "Getting in a live game and playing together, we looked good. There's definitely room for improvement."
Potomac Falls has a nice blend of experienced players and new comers to its lineup this season. The team's best player is senior Uche Onyeador, whom Gryder calls the best high school player in the state.
Over Onyeador's remarkable high school career, he has scored 105 goals as a varsity player at Potomac Falls. The Georgetown University-bound standout is just 20 goals short of breaking the Virginia High School League record.
"It all starts with his work ethic in practice," said Gryder, of the fourth year varsity forward. "Even as great of a player as he is, he puts the team first ahead of his individual goals. His ability to score, beat people one-on-one and not miss many [scoring] chances probably sets him apart from other people."
Last year, Onyeador, a three-time, First Team All-Region and All-District selection, scored 42 goals and had 12 assists.
<b>ONYEADOR</b> has a strong supporting cast surrounding him with such players as senior midfielder Alex Borowski, sophomore center midfielder Conner Shanosky and junior outside midfielders Asa Fox and Joe Baires.
The Panthers' team tri-captains this spring are Onyeador, Borowski and Baires.
Potomac Falls has 12 players who are either juniors or seniors, as well as six sophomores and two freshmen on its roster.
"We have a lot of new faces who have been waiting for their time to make an impact," said Gryder. "We're a well-rounded group of different [players]. Our future and where we are now is great. We're not overloaded with seniors."
The coach wants to see his team display a well-balanced offensive scoring attack. Onyeador will almost certainly get his goals. Gryder wants to see other Panther players find the net as well.
"The biggest thing we're going to try to do is be more rounded in having a variety of different people score," said the coach. "We're trying to take some pressure off Uche. He's going to have a lot of people putting their attention on him."
Two seniors will play key roles for Potomac Falls' defense in Alex Zuckerman and goalie Nic Johnson.
Johnson, who is six-foot-one, did not play last year because Potomac Falls had two highly capable players manning the net. This season, the job is his.
"He's going to be a tremendous asset to our team," said Gryder, of Johnson. "He did not play last year because the team had two returning goalies. He's a big kid and super athletic. He's a tall, rangy, athletic goal keeper. He's very good on the ground and very a good distributor who can release the ball out."
The coach believes the Panthers are capable of, once again, bringing home postseason titles.
"I think we have the ability to go as far as we have in prior years," he said. "Once we figure out how to play better as a team and where [players'] best positions are, we'll be fine."
The coach loves the leadership he has in his three team captains.
"They know what to expect and what they want to get out of the season — winning the district and going on to states," said Gryder.