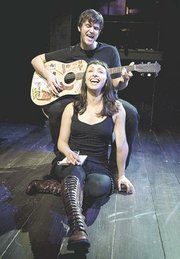 Last Sunday, New York came to Old Town Alexandria. It was the official Opening/Press night for the world premiere of "Rooms" a rock romance by Paul Scott Goodman and Miriam Gordon. It tells the story of Monica and Ian, songwriters, musicians, and singers who travel from Glasgow to London to New York in search of stardom. It is a musical that offers an audience everything from beautiful poignant ballads to punk rock numbers that take the house down. It is a musical journey and a touching love story. MetroStage, director Scott Schwartz and the creative team from New York are all committed to this story, the music and the artists involved, particularly composer Paul Scott Goodman and his wife, writer Miriam Gordon. Audiences are wildly enthusiastic as well.
But Sunday was especially exciting because not only were we officially opening the premiere of a new work, and introducing it to our audience comprised of VIPs, supporters and several dozen theatre critics, but we had as our special guests many New York producers who are interested in investing in this show and taking it to New York. Having seen it in a run in a small rehearsal room in New York City a month ago, they were able to see "Rooms" in its present form after two weeks of previews and rewrites—a lost song here, an additional word, phrase or scene there. Sunday it was ready for an audience made up of regular theatre-goers who are always anxious to discover a new work, critics and investors. The excitement was palpable and the energy infectious.
With a lot more work and a little luck, Monica and Ian's journey and Paul Scott Goodman's music will reach New York City within blocks of Times Square in the near future. "Rooms" is already scheduled to travel to Rochester, N.Y. in September for a run at Geva Theatre Center, as a result of a co-production with MetroStage.
<b>By Carolyn Griffin</b>