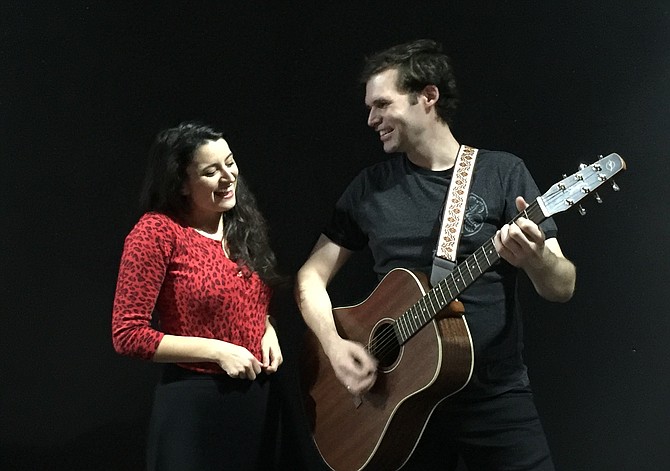 The musical "Rooms: a Rock Romance" will celebrate its 10th anniversary with a new production at MetroStage in Alexandria from Oct. 11 to Nov. 11.
The setting takes place in Glasgow in the 1970s. Monica, an ambitious singer songwriter meets Ian, a reclusive rocker. They become entangled creatively and romantically with their music and their quest for stardom taking them from Glasgow to London and ultimately New York City, discovering a vibrant new punk music scene along the way. It is a gritty rock musical exploring the universal desire to escape and create, to love and explore.
According to Producing Artistic Director Carolyn Griffin: "Ten years ago MetroStage premiered the musical 'Rooms: a Rock Romance' by Paul Scott Goodman and Miriam Gordon. It was a delightful gem of a musical with two characters who were aspiring rock singers and followed their journey from Glasgow to London and ultimately to New York City. Of course, they encountered some challenges along the way."
She continued: "Goodman's score was universally acclaimed and has been a cult classic ever since. From MetroStage, it moved to GeVa Theatre in Rochester, N.Y., and then to New World Stages in N.Y.C. Natascia Diaz, the original Monica, won the Helen Hayes Award as Outstanding Lead Actress. It has since played all over the country in addition to London. And now it returns to MetroStage for a 10th anniversary showing."
"Goodman has written a remarkable score ranging from beautiful ballads and duets, and rock and roll with a little punk thrown in," she said. "A few comic moments and some serious issues are confronted, primarily through music. And with some of MetroStage's favorite musicians, it is going to be a great evening of music and storytelling through music."
Candice Shedd-Thompson is playing the role of Monica, who is headstrong, determined, confident, feisty, and gutsy. "While her dreams may morph and grow, sometimes rather quickly, she is always certain in what she wants and determined to do whatever it takes to make her dreams a reality," she said.
"As a young actress still trying to 'make it' in the competitive world of musical theatre, I see a lot of myself in Monica. Her drive and determination is something we all have starting out, a drive that is necessary in order to get seen at auditions and hopefully get our foot in the door. I just wish I went for things as fearlessly as she does," she said.
One of her biggest challenges in playing Monica, besides learning how to do a believable Scottish accent, is learning how to replicate her confidence, she said. "To embody the posture and mannerisms of someone who is certain that they can achieve anything, without coming off as cocky, is a tricky line to toe. As well as making sure that her larger-than-life personality still reads as genuine and likable, instead of just as a caricature of a person. She may cover many of her emotions to appear strong, but she is more complex than she seems, and there is more to Monica than what meets the eye," she said.
Matthew Schleigh is playing the role of Ian Wallace, a complex individual dedicated to his music and protective of its creation. "At the top of the show he's retreated to the solace of his room, which has become both a haven and a prison. He's searching for an unwritten masterpiece that will enshrine him within the grander rock mythos, but only on his terms. Only within his room does he feel he can achieve this elusive pursuit," he said.
He said his challenge in approaching Ian involves his introversion. "I'm naturally a very extroverted person, and Ian's energy is the polar opposite of mine. I struggle to understand why he wants to return to his room to his music, when through the course of the show his music with his partner, Monica, is being performed and heard throughout the rock scene of the 1970s. And so much happens in such a comparatively small amount of time," he said.
He continued: "Ian and Monica's journey is told in a beautifully rich and efficient way, so we have to work harder to show their arcs as their relationship shifts — sometimes multiple times within one number — from reluctant writing partners to punk stardom to young lovers. It's why I love playing Ian, and why I love theatre in general — finding the 'why' of a character and what that can teach us about ourselves."
"Rooms: a Rock Romance" was written by Paul Scott Goodman and Miriam Gordon, with music and lyrics by Paul Scott Goodman, and directed by MetroStage Artistic Associate Thomas W. Jones II. Matthew Stephens is music director and piano accompanist.
MetroStage will perform "Rooms: a Rock Romance" Oct. 11 to Nov. 11. Show times are Thursdays and Fridays at 8 p.m., Saturdays at 3 p.m. and 8 p.m., and Sundays at 3 p.m. and 7 p.m. Tickets are $55 with student and active military and group discounts. There are $50 tickets available with Flex Passes of four or more tickets. Call the theatre at 703-548-9044 or go online to www.metrostage.org.