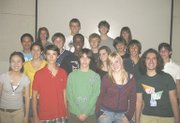 Atlanta's Theater of the Stars will present its production of the eight-time Tony Award-winning Broadway musical "Les Misérables" at Wolf Trap National Park for the Performing Arts from Aug. 29 through Sept. 7. A group of area teenagers who successfully auditioned to participate in "Les Miserables" will be in the chorus and ensemble performing six songs.
Based on the 1884 classic novel by Victor Hugo, "Les Misérables" recounts the struggle of good versus evil in France in the early 1800s. Jean Valjean rises above his circumstances to bring hope and peace to the lives he touches in this theatrical epic. This tale of love, loss, triumph, and redemption includes songs such as "On My Own" and "Do You Hear The People Sing?"
Starring in this production of "Les Misérables" are Broadway regulars Rob Evan as Jean Valjean, Cindy Benson as Madame Thenardier and Anderson Davis as Marius, all from the original Broadway production; Rob Hunt as Javert, Nikki Renee Daniels as Fantine, Jenny Fellner as Eponine and Laurent Giroux as Thenardier.
<i>Tickets can be purchased by calling 1 (877) WOLFTRAP; or online at <a hrf=http://www.wolftrap.org.>www.wolftrap.org</a> For more information, call Wolf Trap at (703) 255-1868. Wolf Trap is metro accessible with environmentally friendly shuttle traveling from the West Falls Church metro stop every 20 minutes two hours prior to show time. For more information, visit http://www.wolftrap.org/Plan_Your_Visit/Access_by_Metro.aspx
</i>