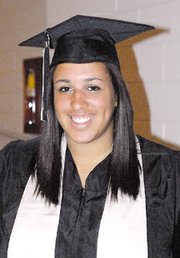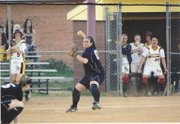 When Diondra `Dee Dee' Fryer accepted a scholarship offer from the University of Tennessee in December of 2006 to play softball on a full ride, she naturally accepted.
Fryer had just attended a softball camp at the renowned SEC school and had impressed the Volunteers' coaching staff. Tennessee head women's softball coach Ralph Weekly offered the scholarship and Fryer said yes.
Then, Fryer, a junior at Dominion High School at the time, had second thoughts.
"I had told [the coaching staff] at the end of camp that I would go there. [But then] I was actually really nervous and thought to myself, `What did I just do [committing to] going to a big school like that?'" recalled Fryer, of her immediate second guessing of her important choice. "I was getting letters from different colleges."
The initial fear factor soon wore off and Fryer, an All-Region caliber high school player, was pleased with her choice.
"I just fell in love with it, the sports and everything," said Fryer, of her impression on a visit to the Knoxville campus. "The campus is beautiful. I'm really a sports girl and I'm football crazy."
And they are certainly football crazy at Tennessee where the Volunteers annually put out one of the better teams in the country. The school is also known for its NCAA championship women's basketball squad and its outstanding track program.
Being a sports fan herself and someone who one day would like to work in the sports medicine field, Fryer should be a perfect fit at Tennessee.
<b>THE POPULAR</b> Fryer certainly made her mark as a member of the Dominion High softball program over the past four years. A versatile player who was willing to play where she was needed defensively, Fryer, who is likely to play first base at Tennessee, was a four-time team MVP for the Titans and a First Team All-Region II and All-Dulles District selection in her sophomore, junior and senior years.
This past spring season as a senior under first year Titans' head coach Tom Chuba, Fryer, as her team's No. 3 hitter in the line-up, batted .581, scored 28 runs, batted in 13 and belted four home runs. She also earned a school record number of walks and struck out just once all season.
"She's a very patient hitter," said Chuba, who took over the program after former Dominion coach Chris Tully moved on to Potomac Falls as the assistant athletic director. "She knows the strike zone and would work the count."
In a loss to powerful Broad Run, Fryer had her team's lone hit against pitching sensation Caitlyn Delahaba, who a few weeks ago led the Spartans to their second consecutive unbeaten season and state AA crown.
Chuba said Fryer is a student of hitting, as well as a teacher.
"She studies hitting and loves to hit," he said. "She would watch her teammates and spot [problems] in their swing. If she goes into coaching, she'll be fabulous."
Defensively, Fryer played infield and outfield for the Titans over her career. When the team's starting shortstop, Stephanie Fedrigo, was ill earlier in the spring, Fryer stepped in and did a good job filling in at the position. Later, she played third base. Like any good ball player, Fryer wanted to do what was best for her team.
"If you needed me at shortstop, left field or second base — whatever was best for the team," she said. "It's nice to be a versatile player."
Said Chuba, "Dee Dee could play any position. She loves the outfield. She played where we needed her to play. She did it and worked at it. She'd always want me [or an assistant] to hit her groundballs. She had been an outfielder prior to [her senior] year."
<b>AS A YOUNGSTER</b> growing up in Newport, N.C., Fryer's first love was baseball. And she played the mostly-boys' sport within the local youth organization.
"I was such a tomboy and did that," she said with a giggle.
When her family eventually moved to the Sterling area of Northern Virginia, Fryer's mom encouraged her to try out girls' softball.
"I said, `What is softball? It's a bigger ball, skinnier bat. What is this?'"
But she was a natural.
"My coaches were like, `You're going to be a great hitter,'" recalled Fryer, who played center field as a youth. "Hitting wasn't that hard for me to pick up on."
Over the next several years, Fryer went on to play travel softball with such teams as the 10-under Baseliners of Loudoun, the Shooting Stars (from age 11 to 14) and the Shamrocks (from age 16 to 18). With the U-16 Shamrocks, she played under coach Jim Brackin for two years before playing under legendary area coach Tommy Orndorf with the U-18 Shamrocks.
Currently, the U-18 Shamrocks' summer team is looking to qualify for upcoming nationals.
Along with competing in both travel and high school softball, Fryer spent three years as a student athlete trainer for the Dominion High football team during the falls. She would like to one-day work as a college athletic trainer or perhaps go into coaching.
"I love sports medicine and being around sports, and I love football," she said.
Fryer, who recently graduated with her senior class at Dominion, has certainly brought a lot to the school and the Titans' softball program.
"Dee Dee has brought to the team not only tremendous playing talent, but leadership," said Chuba. "Players look up to her as their leader. She leads by example. She gets right in their, practices and plays hard and expects that from her teammates. Dee Dee is so special."
Chuba said having Fryer, a team captain, on the team was like having another assistant coach.
"She understood the personnel," he said. "And that was just tremendous. She's going to be sorely missed."
Fryer is looking forward to her upcoming college career, both in the classroom and on the ball diamond.
"I've learned a lot playing high school softball and I've gained a lot of friends," she said. "High school has taught me how to be a leader. I'm going to take a lot of things [I've learned] to college."