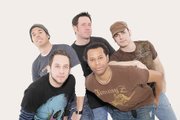 This coming Friday June 27, Burnt Sienna will be performing at Friday Night Live, a free series of outdoor concerts on the Herndon Town Green, from 6:30 till 10:30 every Friday night. Burnt Sienna member, Jeff Ebbert answered a few questions about his band.
Q:What is your inspiration?
A: We all spent time in live music clubs seeing great live acts and popular cover bands. It obviously looked like fun, and definitely drew our interest to hear that these bands could make a living off performing.
Q:Where do you normally play?
A:D.C., Arlington, Herndon, U of MD, Dewey Beach, Northern DE, Philly, Reading PA, South NJ Shore, Boston MA, and private parties and functions everywhere
Q:Where do you enjoy playing the most?
A:We generally only play venues that we really enjoy, so the answer would be everywhere. Dewey Beach has probably been the most instrumental to our success, especially in the VA/MD/DC area.
Q:Have you ever performed in Herndon before?
A:Yes, we've performed for about four years at Ned Devine's Herndon and every summer since at Friday Night Live.
Q:What did you like best about Herndon? Any favorite spots in Herndon?
A:We typically perform once per summer at Friday Night Live followed by a second show at Ned's Herndon. This is always a fun day, since many of the people that hang out in the afternoon follow us over to our club show at night.
Q:Where are the members of your band from?
A:Reading PA, Trenton NJ, and South NJ.
Q:How did you get booked to play at Ned Devine's after the Herndon festival?
A:Our manager (Rick Green of Midnight Sun Company) books several of his bands at this venue.
Q:How did you come up with your band's name?
A:Bob Ross Joy of Painting Little Happy Trees painted in Burnt Sienna.
Q:How would you describe your sound?
A:We cover a wide range of genres and eras, and usually cater to the sound of the original recordings, so basically our sound is all over the place.
Q:Who are your favorite musicians?
A:Too many to list, since we are all inspired by different styles of music. Would say that all five members appreciate Beatles, Led Zeppelin, and Queen. Can't go wrong with the classics.
Q:What is your favorite song or genre to perform?
A:"Somebody to Love" by Queen
Q:Does your band have any other jobs, outside of musicians? If so, what are they?
A:No. We are all full-time musicians
Q:How long have you been playing in the band?
A:Since we started it in 1997
Q:What is the most interesting thing that has happened to your band while on the road?
A:Literally on the road? Having a snowball fight between our two vehicles while driving in a blizzard on our last trip to Boston. Don't tell our families that story.
Q:How would you describe your concerts?
A:High energy, wild and unpredictable stage antics, good party vibe, good sense of humor about ourselves.
Q:What would you say to an aspiring musician?
A:Work on your trade early and often and do whatever it takes to get on a stage in front of people. With good musical skills and live performing experience, you will always be in demand and can perform for a long time. Work with people that take it seriously, and stick with it. Some of the best musicians I ever shared a stage with gave it up a long time ago, and it's frustrating to hear about.
Q:What do you enjoy most about performing?
A:The entertainment aspect. I love the challenge of trying to get a crowd to enjoy themselves as much as possible. Especially if it's unfamiliar people or territory. Also, we are all very involved in picking what songs to play in what order. Just like a good dj, we have to predict which song will fill the dance floor early, what time to play a singalong, etc.
Q:When did you start the band and why?
A:March 1997. Saw potential to make a good living and was impressed by the live shows of local cover bands in DE and Philly.
Q:Are you excited to perform at Friday Night Live?
A:Definitely. It's a rare opportunity for us to perform to a family crowd as well as the bar age crowd. The kids seem to have the most fun at this event.