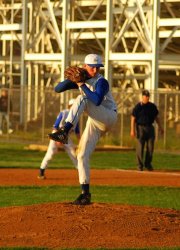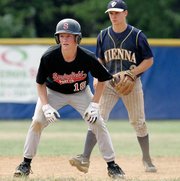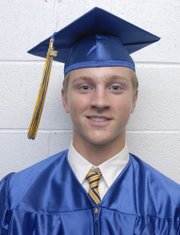 Even with a new coach, and a midseason four-game winning streak, the Lee baseball team hardly had a stellar year. In fact, in Brett McColley's first season for taking over for David Gardziel, most people have already looked forward to next season.
But Clint Bronder, one of the Lancer senior co-captains this past season, was one of the few bright spots. Bronder, the blonde centerfielder and backup pitcher teamed with Ryan Davis to get all-district consideration despite the poor record.
"At the beginning of the year, we were off to a good start. We finished third at the West Potomac tournament, but everything went kind of down from there. We had a young team."
So Bronder, who was also captain of the varsity wrestling team, was charged with mending McColley, the prior junior varsity coach, into the fabric of the team. If someone was scolded, Bronder attempted to keep the younger players encouraged.
"Coach really looked to me to get everyone off to a good start," Bronder said. "We really organized a lot of what we did. What I really tried to do as a captain was talk to people and get them in the right mindset."
The outgoing senior, who graduated with a 3.5 grade point average will enroll in the fall at Christopher Newport, where he hopes to major in Biology. Currently, Bronder is manning centerfield for American Legion Post 176.
In school, he was active in DECA (Distributive Education Club of America), American Sign Language Club, and volunteer time at the Central Springfield Little League.
"I grew as a person during my four years at Lee and baseball was a big part of that," Lee said.