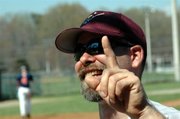 <b>Coach</b>: Bill Dempkowski, 2nd year
<b>2007 Record</b>: 8-13
<b>Season Ended</b>: Lost to Washington-Lee in the first round of the district tournament.
<b>Key Losses</b>: P/1B D.J. Judkins, C Matt Jones
<b>Key Players</b>: P/INF Manny Aponte SR, P/OF Basil Badley SR, P/UT Wyatt Carpenter JR
<b>Quotable</b>: "I expect to be No. 1 [in the district] this year. I really have a positive outlook with my guys. They're looking great right now. They're intense. They're motivated. I think we're going to be a contender at regions." — Bill Dempkowski, Mount Vernon head coach
<b>Outlook</b>: Bill Dempkowski got the head coaching job at Mount Vernon almost 15 months ago. After the Majors shuffled through four coaches in five months, Dempkowski, a jayvee coach at the time, was promoted in December.
The Majors struggled in his first season, dipping to just eight wins — its lowest total this decade.
"I called it my rebuilding year," Dempkowski said. "This year, we're locked in, all set and ready to go."
Dempkowski attributed the struggles to an assortment of things, including an individualistic philosophy and lack of intensity in games. So he made changes.
First, Dempkowski wants to strip the "me" philosophy he found prevalent in many of the eight seniors from last season.
"We're focusing the "one team," the "one unit" concept," Dempkowski said. "I think that was one of our plagues last year. We had a lot of individuals. This year, we're really concentrating on continue to look at the defensive guys, who say 'look, you get a no hitter.' Last year, I don't think that would have happened."
Another overhaul was adjusting the time that the Majors practice. He delayed the customary 3 p.m. practice start to 6 p.m., which coincides more with when the games will be. The reason?
"We had difficulties putting the nail in the coffin," Dempkowski said.
The second-year coach thinks that will change this season, especially with a potent top-of-the-order and blazing team speed.
"We have the ability to bunt and move runners," Dempkowski said. "Because of our speed, we have the ability to not sacrifice an out to get a runner in scoring position. That's going to be one of our key areas. We don't have to sacrifice anyone to move or score a run, which gives us an opportunity to make those big things happen."
On the mound, the coach has yet to pick either junior Wyatt Carpenter or senior Basil Badley as the team's premier pitching option.
"They both throw great pitches and do great things," Dempkowski said.
With the improved hitting and pitching, the confident coach isn't shying from saying that his team has a legitimate shot of making noise despite not even making it out of the first round of the National District tournament last season.
"One of the good things is that right now, we're a nobody," Dempkowski said. "Nobody is expecting anything out of us. If we catch someone sleeping or someone making a mistake, we're going to be able to capitalize on it offensively."