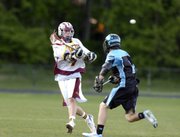 <b>Coach: </b>Tony Gray, eighth season (96-26)
<b>2007 Record:</b> 8-7
<b>Key Losses:</b> The Cougars lost 17 seniors, including six starters from last year's squad.
<b>Key Players: </b>D Dylan Grimm, SR; M Rob Koster, SR; D Chris Rainwater, SR; A James McClellan, SR; D Jack Tyler, JR; G Joey McCallum, JR.
<b>Quotable:</b> "We typically have one of the hardest out of district schedules, so when we go into the district, they don't have the sense that we are playing a really tough team." – Oakton head coach Tony Gray
<b>Outlook: </b>It's been two years since the Oakton boys lacrosse team has won a state title. That may not seem like a long drought for most teams, but for the Oakton Cougars, it's a lifetime. Head coach Tony Gray's squad won three straight unofficial state titles from 2002-2005, but has watched district-rival Robinson take the last two official state titles.
"Last year, even though we lost the year before, I felt like the team wasn't that hungry. They were still kind of fat and happy from our three state championships. This is the first team where I feel like they are really hungry. They want to get back up on top," said Gray.
The Cougars return a strong backfield, led by seniors Dylan Grimm and Chris Rainwater and junior Jack Tyler. Returning junior goalie Joey McCallum, with a year's worth of varsity experience under his belt, will anchor the backfield.
"Those guys are leading the charge on that and they are making sure that some of the younger guys understand that they have to be hungry too," said Gray.
With his defense intact, Gray will look to reload an offense that lost eight players to graduation.
"How quickly the new players gel on offense with only two of the top ten returning from last year will be the key to the success of the team," said Gray.
The Cougars will be forced to gel quickly, with a tough schedule that includes private school powers Georgetown Prep, Notre Dame, Bullis and Landon, not to mention their tough Concorde District schedule that includes defending state champ Robinson, state finalist Westfield and a strong Chantilly squad.
"My whole mentality is to play really tough teams early so that they can get mentally and physically prepared for the battles in the district," said Gray.