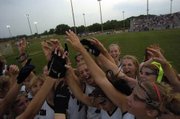 <b>Coach: </b>Jean Counts, tenth season
<b>2007 Record:</b> 17-1 (Concorde District champions, Northern Region champions, Virginia state champions)
<b>Key Losses:</b> M Hillary Freund, A Victoria Cable, D Caity Jones, M Katie Berkel, D Stephanie Light
<b>Key Players:</b> M Ashley Kimener, SR; G Tory Morgan, SR.
<b>Outlook:</b> After taking the first two official Virginia state girls lacrosse titles, the Oakton Cougars return this year with their eyes on a three-peat. The Cougars are going to have to do it this year, however, without many of the players integral to their past success. Oakton graduated 10 seniors from last year's squad, including attack Victoria Cable, midfielders Katie Berkel and Hillary Freund, and defenders Caity Jones and Stephanie Light.
Although, the Cougar cupboard wasn't left bare.
Head coach Jean Counts returns seven seniors, including Northern Region player of the year Ashley Kimener and first-team all-district goalkeeper Tory Morgan. The Cougars still garner respect from area coaches as well, placing first in the TripleEDGE Lacrosse preseason coaches poll.