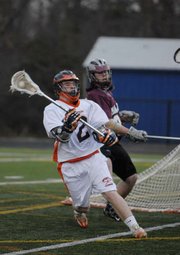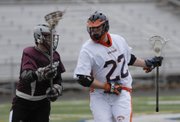 West Springfield Boys Lacrosse
<b>Coach</b>: Chris Brengel, fifth year
<b>2007 Record</b>: 9-6
<b>Season Ended</b>: Lost 8-2 to Chantilly in Northern Region tournament.
<b>Key Losses</b>: Scott Holmes, Dom Coppola, Matt Kawamoto
<b>Key Players</b>: GK Andrew McGregor, D E.J. White So., A Eric Schauder So.
</b>Outlook</b>: After two early season losses to Chantilly and Westfield already this season, West Springfield was due for an offensive breakout. Granted, a skeleton Spartan team earned a 20-6 victory over Mount Vernon on Tuesday during both school's Spring Break, but the defending Patriot District champions were struggling putting the ball in the net.
Fifth-year head coach Chris Brengel was puzzled by the offensive ineptitude in scoring eight goals in two games to open the season, especially considering most of his offensive players are somewhat familiar.
"We're returning everybody on offense," said Brengel, who watched his team score 10 first-half goals against Mount Vernon. "We've got a young, inexperienced defense that we hope is ready to step up to the challenge."
The Spartans have relinquished an eight-goal per game average through the first three contests. But Brengel knows that he has to replace three all-district players, including Matt Kawamoto, who is playing currently at Ohio State. Considered one of the best players in Virginia, Kawamoto had a team-leading 85 groundballs, five goals and two assists in 13 games. He is one of 10 former Spartans who went on to play collegiate lacrosse.
Brengel is fond of his sophomore class, which includes sophomore defenseman E.J. White So and sophomore attacker Eric Schauder. Schauder's older brother, Tommy, graduated from West Springfield in 2005 and is playing at Virginia Tech.
In 2007, the Spartans rode a four-game run to the district title, before getting waxed by Chantilly in the first round of the region tournament. Brengel wasn't happy with the lackluster showing, considering West Springfield battled the Chargers to four overtimes in late March.
In order to pull out those games, Brengel thinks the defensive development will have to be a catalyst.
"We have to keep working on defense," Brengel said. "Defense is our biggest concern this year, so we're trying to develop our defense."