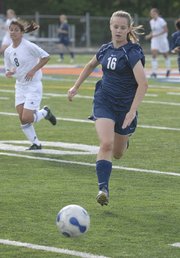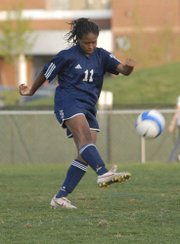 Eight seconds. That was the amount of time that the West Springfield girls soccer team took to score against T.C. Williams on Friday — just a day after its first defeat of the season.
West Springfield, considered to be the Patriot District power, had an unexpected 3-1 loss to Lake Braddock in a rescheduled district game on April 17. A day later, the Spartans spanked the helpless and injury-riddled Titans, 7-0, at George Washington Middle School.
"We had a lot of anger after the game," said West Springfield senior forward Erika Gleason. "Being beat [3-1] by Lake Braddock, we came out ready together."
But on Tuesday, the Spartans surprisingly dropped another game, this time at home to one-loss W.T. Woodson by a 3-0 margin.
"We have all of the key pieces," said junior goalkeeper Beth Anne Nowak. "Our biggest opponent is ourselves. We can hang with anyone. We just have to keep that focus and not let the mental side get to us."
Several players cited the need to maintain mental focus as a catalyst for what would be the school's second straight district title. Prior to the Lake Braddock loss, players could tell that something was awry, even in pregame warm-ups.
"We had been talking before the game about rankings and stuff like that," Gleason said. "We came out flat."
<b>WITH FIRST-PLACE</b> South County looming on Thursday, the Spartans will need to retool its defense, which was allowed six goals in the last three games despite giving only three during the season's first six games.
Nowak, who hurt suffered an ankle injury with her club team during a tournament in Florida was cleared to play as the season began. Nowak, who lost 50 pounds over the summer, said overcoming the injury hasn't been an easy process.
"It was one of the hardest things I've ever had to do," said Nowak, who claimed she's still not fully healthy.
Offensively, West Springfield will also need to get back on track, as with junior forward Amalya Clayton and junior midfielder Katie Scanlon, both of whom are not strangers to putting the ball in net. West Springfield has scored six goals in three separate games, and only failed to score multiple goals in two games — two of which were losses.
"South County is a great team," Nowak said. "It's going to be a challenge because they're an offensive minded team. I think we can handle them and hang with them. We just have to play our game and not theirs. If we play our game, it should be a good match."
The Spartans beat South County twice last season, once ruining a Senior Night in the regular season and then again in the district playoffs.
"The district is pretty darn strong," said sixth-year head coach Kellie Mastrodonato. "You can't count anybody out on any given day. Anybody can beat anybody. I think it's great that we play in a strong district, because it's going to help all of us when we get to the region tournament in tougher competition."
Likewise, West Springfield lost 2-1 to Lake Braddock in the regular season last year, before winning the district title in a thriller. That, according to the players, remains the goal, though now they'll need a win against South County to vie for the regular season title.
"It's a great way to end your years," Gleason said. "The seniors last year went out with a district title. That's what we want to do again this year."