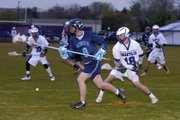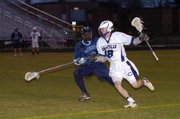 <b>Coach</b>: Greg Beer, third year (29-5-1)
<b>2007 Record</b>: (14-4, 6-0 National District)
<b>Season Ended</b>: Lost 8-6 to Westfield in the second round of the region tournament.
<b>Key Losses</b>: A Clay Chamberlin, GK Brad Chamberlin, D Lee Thomas
<b>Key Players</b>: MF Dillon Brothers SR, D Ben Kalkstein SR, A Billy Spack SR
<b>Quotable</b>: "We have three goalies this year and all of them are experienced. They're all very capable to play…so we basically have three options at goal. It works for us." — Greg Beer, Yorktown boys lacrosse coach
<b>Outlook</b>: While Yorktown hasn't dropped a National District game in the past two years, it's still searching for its first victory of 2008. With 19 seniors, the Patriots are adjusting to eight new starters heading into a Wednesday home tilt with Madison.
In the district, it's been a different story. Yorktown (0-4) hasn't lost to a district opponent since Mount Vernon beat them 8-5 in the 2005 tournament final. In winning 17 straight under coach third-year head coach Greg Beer, Yorktown has all but ended the Majors' six-year undefeated district reign.
If the Patriots want to continue their dominance, they'll have to rely on Marymount-bound midfielder Dillon Brothers, who scored 21 goals and had 29 assists in 2007. The returning first-team all-region selection tallied the 100th career point at the beginning of the season, and received high compliments from his Marymount alum coach.
"He's basically the quarterback," said Beer, who works with the State Department. "He controls the offense and slows it down when it needs to be slowed, but when it needs to be fast paced, he can go fast. He plays great defense. He's probably one of the best I've seen in high school."
Brothers, a four-year varsity starter, will need to scoop up the scoring slack from another set of brothers. Clay Chamberlin, part of triplets, left as the school's all-time scorer. Billy Spack, the team's returning leading scorer (25 goals, 17 assists) was a second-team all-district selction in 2007, and will also need to fill a scoring role.
Defensively, goalkeeper Brad Chamberlin, who graduated as the school's second-ranked career leader in saves, must be replaced. Returning senior Peyton Ellis, junior Sam Ridgley and O'Connell transfer Mark Destro should all share time in goal.
Senior Ben Kalkstein, a Guilford College signee had 58 groundballs and 14 takeaways in 2007, and will need to pace the defense.
Beer knew that despite a mature core, the adjustment period might carry some setbacks.
"This year especially, we have eight new starters," Beer said. "We have some older kids who are mature, but integrating eight new starters will take some time."
The Patriots dropped a 10-7 contest to McLean in the season opener and an 11-6 home loss to Annandale before departing for a Spring Break trip in Florida. That coincided with two double-digit losses.
Beer knows though, that the district slate starts April 1, and he wants to have his team ready to defend its title despite talented returning players at both Washington-Lee and Falls Church.
"The teams in the district, there's talent there," Beer said. "In the last two years, we've just been fortunate to have it all come together."