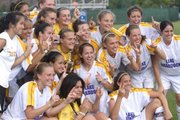 <b>Coach: </b>Adam Soos, first year
<b>2007 Record:</b> 17-3-2
<b>Key Losses:</b> D Kat Wieler, M Katie Dye, F Lauren Flemming
<b>Key Players:</b> D Alison Nabatoff, SR; M Aline Le, SR; GK Caitlin Landsman
<b>Quotable:</b> "Anybody can walk into an established program and win games and take credit. I think that both myself and the players that are now the foundation of this team are going to continue to earn that reputation on their own." – head coach Adam Soos
<b>Outlook:</b> At first blush, first year Lake Braddock head coach Adam Soos landed the holy grail of soccer jobs. The Bruins are back-to-back AAA Virginia state girls soccer champions and have earned four district, two region and three state titles since 1999.
A closer inspection shows a tougher job for Soos, who started the Freedom-Woodbridge boys soccer program three years ago. The Bruins graduated 11 seniors that formed the core of their title teams, including Patriot District Player of the Year Kat Wieler, who led the team with nine game-winning goals and six assists.
"Regardless of who has graduated and who has not, it is still an attractive job to have," said Soos, who takes over for Liz Pike, who is coaching at Shenandoah University in Winchester. "You are going to have a good group of kids with a lot of community support and parental support. Those are all ingredients for long-term success. Regardless of the fact that it may be more difficult at the beginning, it is still a good job to have."
Senior defender Alison Nabatoff will captain the Bruins and will bring valuable experience to the Bruins' back line.
"She is a captain and a real leader for us. She is a good leader for us more than anything because she has very high expectations for herself and the kids see her hold herself to those expectations," said Soos.
Lake Braddock also returns starting senior goalie Caitlin Landsman and senior midfielder Aline Le.
"I don't care how good you are, you are going to rely on your keeper at some point," said Soos. "That will be extremely important for us."
So far so good for the Bruins who beat Langley, 4-0, in their opening game.
"We have progressed very nicely so far. There are a lot of girls that are going to have to become accustomed to filling roles that they haven't filled before. I think that naturally, that is going to take some time. I think that where we are now compared to where we were on day one has certainly shown some nice progress," said Soos. "There will be a lot of on-the-job training and a lot of growing up for those girls. "