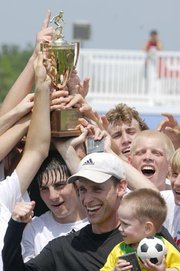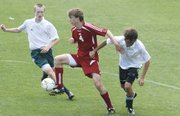 <b>Coach:</b> Sean Burke
<b>2007 Record:</b> 17-1-5
<b>Key Losses:</b> Harry Beddo, Justin Johnson, James Ramadan
<b>Key Players: </b>GK Ariel Brown, SR; D Will Beckman, SR; F Ayman Abuminer, SR; F Takahiro Nakamura, SO.
<b>Quotable:</b> "I think that we will eventually start to get the goals and that will make us tough." – head coach Sean Burke
<b>Outlook:</b> Last year, nobody expected the Thomas Jefferson boys soccer team to do much. On the field, opposing players joked about calculators and pocket protectors. The Colonials just smiled and marched their way to a 2007 AAA Virginia state title. The team that nobody expected to win became the top team in the state. Now, with the vast majority of their offense graduated, the Colonials find themselves in the same underdog role that fueled them just a year ago.
"They are excited about seeing what they can do when nobody expects them to do anything. They enjoy it that way," said head coach Sean Burke.
The Colonials lost all of their heavy hitters on offense: Harry Beddo, Justin Johnson and James Ramadan. The only player on this year's squad that scored a goal for the Colonials last year was senior goalkeeper Ariel Brown.
"We will spread the wealth a little bit better than last year. I think that we will eventually start to get the goals and that will make us tough," said Burke.
Senior forward Ayman Abuminer, who was hampered by injuries last year, has already given the Colonials an offensive boost, with three goals in Jefferson's first two games.
"[Last year] he didn't get a chance to do what he can do," said Burke of Abuminer.
Sophomore forward Takahiro Nakamura, who is from McLean, will also look to have a breakout year for the Colonials.
Brown, who recorded 10 shutouts last year, will anchor the defense with senior defender Will Beckman.
As for duplicating last year's success, Burke believes that will be a tall order.
"I don't think that you can. I think that it is impossible," he said. "They are very optimistic about how things can turn out, but at the same time, I think that they realized that this is not like last year."