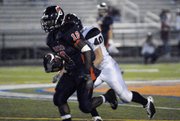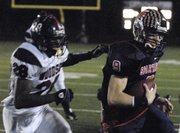 Led by Division I-A quarterback Bryn Renner (North Carolina), the West Springfield football team possesses perhaps the Northern Region's most potent passing offense, typically lining up with three, four or five wide receivers and whipping the ball from sideline to sideline.
Apparently someone forget to tell junior running back Dan Collins.
Post routes, fades, and sharp out cuts were all on display during Friday's basketball-like 72-47 win over Woodson (7-4), but it was Collins' dominant performance out of the backfield that led the Spartans to victory.
In the third quarter alone, Collins racked up 184 rushing yards and two touchdowns, exploding through the middle of the line on the first play of the second half for a 75-yard touchdown run.
"I have to give it up to the offensive line for giving me good blocks," said Collins, who carried 26 times for 351 yards and three scores. "I saw a few linebackers there and Will [Mallon] just came up and kicked 'em out. I just ran straight up off of him."
With the win over Woodson, West Springfield (8-3) will advance to face top-seeded Oakton (11-0) -- 30-13 winners over South County -- next weekend in the Northern Region Division 6 semifinals. In the other matchup, No. 2 Westfield (9-2) will host No. 3 Chantilly (8-3) after wins over Herndon and Annandale, respectively.
At the beginning of the month, Collins wasn't even West Springfield's feature back. After running for 1,438 yards and seven touchdowns last season, senior Brandon Bailey was entrenched at the position. But after suffering a broken left hand during an Oct. 10 win over South County, Bailey has been out of the lineup.
Collins ran for 269 yards and three scores during last week's tune-up against Lee and exploded this week behind a highly motivated offensive line.
"If we can get physical up front, he'll find a little place and make plays," West Springfield coach Bill Renner said. "I challenged the offensive line at halftime and they really stepped up. I was really proud of them."
<b>THE WILD, BACK-AND-FORTH AFFAIR</b> didn't take long to get started. On the fourth play of the game, Woodson junior quarterback Connor Reilly (326 passing yards, five touchdowns) hit senior wideout Max Waizenegger (six catches, 107 yards, two touchdowns) for a 29-yard score.
West Springfield answered with a 32-yard field goal from John McConnell and senior linebacker Auggie Tsibu-Gyan returned a fumble 20 yards for another score.
With 1 minute, 31 seconds left in the quarter, Renner (11 carries, 55 yards, two rushing touchdowns) plunged into the end zone from a yard out to give West Springfield a 17-6 lead after the first 12 minutes.
In the second quarter, Renner (274 passing yards, two touchdowns) hit senior wide receiver T.J. O'Connell (12 catches, 179 yards, two touchdowns) on an out-and-up pattern that Renner brilliantly placed over the Woodson defender. Woodson would answer with a James Johnson's (16 carries, 85 yards) 3-yard run. At halftime, West Springfield held a 24-12 lead.
Reilly followed the 75-yard Collins run with another touchdown pass to Waizenegger, but Renner answered that with his second scoring strike to O'Connell. When Reilly hit senior Kirk Lewis (three catches, 143 yards, three touchdowns) on a 43-yard slant for a his third touchdown, four touchdowns had been scored during the first four minutes of the second half.
Collins and Renner combined to score three consecutive times for West Springfield, and with 10:52 remaining, Collins scored from 50 yards out, giving West Springfield what turned out to be an insurmountable 58-26 lead.
"We did what it took to win," Bill Renner said. "Our defense was having a little bit of trouble, so we had to step up on offense and we did."