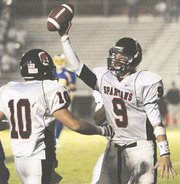 It wasn't a stretch that West Springfield football coach Bill Renner thought would be all that enjoyable. He didn't expect his starters to play three quarters, score 60 points and spend the fourth quarter making plans for after the game. But, Renner knew that like any difficult task, it would be
worth it in the long run.
The Spartans, now 1-2 after a statement-making 50-27 win last Friday at Robinson, started their season with two teams that will likely face each other in the Northern Region Div. 5 title game — Stone Bridge and Edison.
That's like sprinting into a wall, turning around and then sprinting back into that same wall, just to make sure that you've absorbed the full impact.
"We had a tough game against Edison that could've gone either way and [against] Stone Bridge we just got outplayed," said Andy Stallings, West Springfield wide receiver, who caught six passes for 138 yards and a touchdown against Robinson. "It wasn't a good feeling. It shouldn't have been like that."
Stone Bridge clobbered West Springfield, 42-28, and Edison slipped past the Spartans, 35-34. After reviewing his team's game film from the Edison loss, Renner counted 12 situations in which one play could've altered the outcome of the game.
The following week in practice, Renner's message was simple: When it's your turn to make a play … make it.
West Springfield made play after play against Robinson. Even when they didn't, it seemed like the Earth's axis was still shifted in West Springfield's favor as the Spartans scored on five of their first seven drives.
On the two drives in which West Springfield didn't score, 52- and 55-yard punts pinned the Rams deep.
<b>BEHIND A PHYSICAL OFFENSIVE LINE</b>, West Springfield quarterback Bryn Renner, Bill Renner's son, completed 11 of 26 passes for 211 yards and a pair of touchdowns, while also carrying the ball 12 times for 121 yards and another pair of scores.
"We fought hard those two games," said Bryn Renner, who'll play football at the University of North Carolina next fall. "But I thought we came out here and showed our identity and showed that we're going to take the rest of the season by storm."
"We weren't going to panic," said Bill Renner of his team's outlook following the 0-2 start. "We want to play people tough early so we can get better, and I think tonight was the fruition of going through those two weeks."
If Bill Renner's plan proves successful, he'll have likely learned a thing or two in the process. After heat stroke forced senior running back Brandon Bailey (1,438 yards and seven touchdowns in 2007) from the Edison game, his backup, junior Dan Collins, stepped up and "made his play" against the Rams.
Collins proved most dangerous on draw plays, capitalizing on a spread out defense eager to defend Bryn Renner's right arm. In all, Bailey's backup carried the ball 17 times for 110 yards and two touchdowns.
"Danny Collins is a tough, obedient, quiet kid," Bill Renner said. "We feel very comfortable if Brandon goes down. Danny can come in and play in our offense, and he does a really good job for us."
Bryn Renner and Collins traded scoring plays early on. A 12-yard run from Bryn Renner put the Spartans on top 7-0, and Collins answered a Robinson touchdown pass with a 12-yard run of his own to restore the lead.
<b>COLLINS RUMBLED</b> 19 yards for his second touchdown with a little more than nine minutes left in the opening half before Spartans linebacker Scott VanBuren picked off Robinson's Timmy Meier and cruised 24 yards — untouched -— into the end zone.
At halftime, West Springfield led 28-14. The Spartans blew the game open when Bryn Renner hit wide receiver Tucker Tobin in the right corner of the end zone to push the Spartans' lead to 21 at 35-14 early in the third.
Robinson's Alex Murray answered with a touchdown run, but Renner found Stallings wide open over the middle for a 48-yard bomb that allowed the receiver to score without anyone coming within 20 yards of him.
Despite the commanding win against the Rams, the Spartans will continue this sort of reclamation project that only elite teams must go through.
"This game was a good stepping stone, because I think we're a lot better than a 1-2 team," Bryn Renner said. "We just have to go out there and prove it."
The Spartans start Patriot District play with Hayfield on Friday.