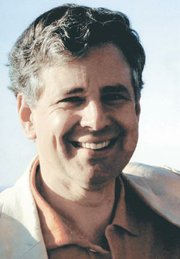 Nathaniel Dabney Chapman II, 51, Central Intelligence Agency Officer, died Sunday, Nov. 9 in Alexandria after a struggle with brain cancer for over two years.
Born in Washington, D.C. to a Foreign Service couple, he grew up in Germany, Afghanistan, Russia, Yugoslavia, and The Netherlands. He attended high school at Christ School near Asheville, N.C., the Odenwald Schule near Frankfurt, Germany, and graduated from The American School of The Hague in 1975. He received a BA in 1979 from Brown University having spent his junior year at Stellenbosch University in South Africa. Nathaniel graduated from the University of Virginia Law School in 1983 and subsequently served a year as clerk to Richard Neely, then Chief Justice of the Supreme Court of West Virginia. He joined the New York law firm Walter, Constant, Alexander & Green before joining the CIA twenty years ago.
His career took him to Hamburg and Bonn, Germany; Bosnia; New York City; and Ankara, Turkey. His final post was in The Hague, The Netherlands. He was able to complete his final year in The Hague, after being diagnosed with a brain tumor, before returning to his home in Old Town Alexandria. Nathaniel's honors include the Distinguished Career Intelligence Medal and the Donovan Award. Nathaniel possessed a seriousness of purpose tempered by unfailing good humor and abundant appreciation of friendships and of the quiet heroism of his colleagues. He was an accomplished linguist, lover of history, and avid collector. He belonged to the University Club of Washington, D.C., the Yale Club in New York City, and the Old Dominion Boat Club in Alexandria.
He is survived by his wife Elizabeth (Liza) Martin Chapman, daughters Marguerite, Ellen, and Elizabeth and son Nathaniel. Family also includes his brother John McArthur and Crystal Chapman of Hedgesville, W.V., brother William Echols Chapman, his father Richard Dabney Chapman of Shepherdstown, W.V., and sister Sarah Chapman and Tim Monahan and family who live in Bangkok, Thailand.
The family are congregants of St.Paul's Episcopal Church in Alexandria, where a memorial service will be held on Sunday, Nov. 17, at 2 p.m. Suggested recipient of tributes in lieu of flowers is The Kimmel Cancer Center at Johns Hopkins University: www.hopkinskimmelcancercenter.org; One Charles Center, 100 North Charles Street, Suite 234, Baltimore, MD 21201 or St. Paul's Church Memorial Fund, 228 South Pitt Street, Alexandria, VA 22314, tel. 203-549-3312.