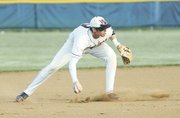 In the final minutes of West Springfield's loss to Oakton last Friday night, a mud-covered Bryn Renner sprinted for a first down, hoping to convert on fourth-and-six.
But as Renner neared the marker, Oakton's Joey McCallum tripped him up, halting the Spartans' 21-point comeback bid and procuring a 49-43 win for the Cougars (12-0). The North Carolina-bound quarterback had gained 8,186 yards during his prolific career. He needed 8,187.
With the region semifinal loss that ended West Springfield's season and Renner's high-school career, sadness made of blur of Saturday and Sunday. When the 6-foot-4, 190-pound senior returned to school on Monday, the initial shock still hadn't subsided.
"It's kind of eerie because we're supposed to be at practice right now," said Renner, sitting in a classroom after a weight-room session on Monday afternoon. "It feels odd."
For Renner, a perennial three-sport star who enjoys downtime like visits to the dentist, inactivity doesn't come easy. He has stepped away from basketball for a few months, hoping to rehabilitate an injured shoulder and increase his strength for baseball this spring.
Saturday's loss put a statistical exclamation point on Renner's career, a 48-minute memoir that included 520 yards (419 passing, 101 rushing) and six touchdowns. It was his fifth game this season with 300-plus passing yards.
For four years, Renner has been an irreplaceable part of West Springfield's high-flying offense, the first two as a wide receiver and the second two as its starting quarterback.
As a freshman, catching passes from Oregon State (formerly University of Virginia) quarterback Peter Lalich, Renner relied mostly on pure athleticism. Though he always played quarterback growing up, switching positions simply to get on the field, Renner started to like playing out wide.
"I really miss [wide] receiver because you could just go out and hit people," said Renner, who caught 95 passes for 1,332 yards and 11 touchdowns during those two years. "Quarterbacks have to have a different mindset. You can't be hitting people because they'll just drill you."
When Lalich graduated, Renner became the starting quarterback for his father, head coach Bill Renner.
<b>AS A FATHER-SON DUO</b>, the Renners orchestrated what became arguably the Northern Region's top offense, which averaged 39.7 points per game and scored 129 touchdowns in 25 contests together.
Among Bryn Renner's career highlights include those 8,186 yards, which stands as the eighth best total in Virginia High School League history. Even as recent as two weeks ago, Renner led his Spartans to a 72-47 win over Woodson in the Northern Region quarterfinals, and that 119-point output became the highest-scoring playoff affair in VHSL history.
"[Against West Springfield] you have to completely forget what you know about conventional football," said Oakton coach Joe Thompson. "It's more like basketball."
"It was a goal of mine to be able to coach long enough to have an opportunity to coach [Bryn]," said Bill Renner, who admitted he's ready to enjoy the fatherly aspects of his son's baseball career. "Having not coached him in youth leagues, I just thought it would be really fun to coach him.
"It was better than I thought because we had a good relationship. We treated each other with respect, and he was able to be the player and I was able to be the coach."
Playing and coaching have been continuous actions during Bryn Renner's high-school career. Renner averaged 26.8 points per game on the basketball court last season and hit .360 with 20 RBIs and 24 runs scored on the baseball diamond.
But after suffering a shoulder injury on Oct. 10 in a win over South County, coupled with his verbal commitment to become a Tar Heel, Bryn Renner thought it would be best to rehab and relax over the winter.
Admittedly, it's not going to be easy.
"I've never had any downtime to say that I'm not playing a sport. Ever since I was little, I played three sports," said Bryn Renner, who passed for 3,123 yards and 35 touchdowns this year. "I'm definitely going to miss [basketball]. I'm going to have a lot of energy."