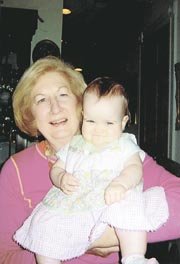 Another Old Town Alexandria institution has changed ownership. But, different from many other recent acquisitions and reconfigurations, this institution, and its specialized merchandise, will remain constant.
Bernadette Troy, founder and owner of The Irish Walk, 415 King Street, recently sold the authentic Irish shop to long time employee Patricia Theobald. "After 36 years, I'm now enjoying my second Saturday in a row when I don't have to go to the shop," Troy said seated in her family room on Wolfe Street.
"When Pat and I first opened the store at 604 S. Washington St.,it was not only our store but also sort of a second home. When, I went to work I took the kids with me. We couldn't afford a full-time baby sitter in those days," she said.
Pat Troy was selling insurance for Met Life and working in the shop on weekends. Bernadette Troy ran the shop throughout the week.
"But, I always wanted to own an Irish restaurant," Pat Troy said. He fulfilled that dream in 1980 when he opened "Ireland's Own Restaurant and Pub" at 111 N. Pitt St. The shop moved from South Washington Street to 415 King St. one year later in 1981. Both businesses open onto Tavern Square.
Their two children are now grown. Son Patrick is 36 and daughter Kathleen is 31. And, Pat and Bernadette have a new focus in their lives — Kathleen's 16 month old daughter Mairead, which is Gaelic for Margaret.
"I decided to give up the store now to help take care of my grandchild while her mother works," Bernadette Troy said. "But, I still plan to go in to the shop part-time when Patricia needs me."
That need is a given as far as Theobald is concerned. "I'm not letting Bernadette go that easy," she said. "I'm counting on her help over the Christmas season and they'll be going on the regular shopping trip to Ireland with me."
WHAT MAKES The Irish Walk such a treasure is that it is stocked with authentic Irish merchandise that has been personally selected by the Troys on vacation/buying trips to Ireland every year. "It's been an institution in our city. People come from all over to visit and shop The Irish Walk and visit the restaurant as well," said Pat Troy.
"When we first started The Irish Walk there was very little to sell. We went over to Ireland ourselves and we had to walk from one individual supplier to another to pick out various items," he said.
"We'd go over for a vacation and the whole time was spent shopping and buying merchandise for the store. Now, the products are available in centralized locations. But, everything in the store is pure Ireland," Pat Troy said.
That claim was buttressed by several long-time customers. "I have been shopping at The Irish Walk since it relocated to King Street. And, it's not just a shop to me, Bernadette and I have become good friends," said Old Town resident Ann McHugh.
"Bernadette has always been very accommodating. If she didn't have a certain thing I wanted she ordered it from Ireland. I'm very glad the shop is going to keep operating and will not be changing," McHugh said.
THAT WAS ECHOED by other Old Town residents, Art and Eleanor Grimley, who have been shopping at The Irish Walk since it was located on South Washington Street. "She goes to Ireland to get the very best products. When I want something truly authentic from Ireland that's where I go," said Art Grimley.
And, that reputation for authenticity and customer service is not limited to Alexandria or even Northern Virginia. Mick Carroll of Silver Spring, Md., has been traveling to Old Town for the past 26 years to shop at The Irish Walk.
"Her selection of Irish products are perfect for all occasions. If you want the real thing in this area as a gift for any holiday, birthday or whatever, The Irish Walk is the only place to go. To me the trip from Maryland to Old Town is well worth it. I can't find what I find there anywhere else," Carroll said.
"We have always carried merchandise that caters to everyone's needs and desires. We have items priced from one dollar to several thousand dollars. And, it's great for me to be able to hand it over to someone that will continue our traditions," Bernadette Troy said.
In addition to Theobald, Bernadette Troy had three other "permanent" part-time employees who were constants at the shop — Lee Reilly, Dorothy Christensen, and Dorothy Murphy. "They all would work during our peak times such as the Christmas holidays, the St.Patrick's Day Parade, and The Irish Festival. But, I could call them up anytime and they would always help out, " she said.
"The St. Patrick's Day Parade days were some of the most memorable. People lined the streets and wanted anything Irish. We sold a lot of our handknit Irish sweaters on those days," Bernadette Troy said.