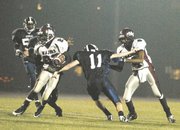 Mount Vernon senior quarterback Brian Green walked over to his sideline to have a word with coach Tom Glynn as his team was driving down the field in the third quarter of last Friday night's game against Washington-Lee.
Green had noticed a Generals cornerback getting lackadaisical on the outside as Mount Vernon had methodically moved the ball with its run-heavy attack.
"Coach, let me throw one up, he's napping, I got this," Green said.
Glynn looked at his signal caller for a second and then made the call, a short fly pattern down the left sideline. Exactly the play Green was asking for.
Although the pass fell barely incomplete off the outstretched arms of the wide receiver, the sequence was telling of the way Green and Glynn's relationship has evolved now that the senior has entered his second season leading the Majors' attack.
That doesn't mean Green hasn't tried to take advantage of the loosened reins every once in awhile.
"Coach Glynn puts a lot of trust in me on the offensive side, this being my second year, so I try to have my say, but I usually go with what he says," Green said with a laugh after Mount Vernon defeated Washington-Lee, 12-10, to improve to 3-2 on the season. "He's never wrong."
Glynn and the Majors run a unique offensive system, one that relies heavily on smart decision-making while running the ball behind a veteran offensive line. Although Green rarely reaches double figures in passing attempts (if he does, it probably means the Majors are losing), he's got plenty of choices to make within just his running attack.
On any given snap, Green has the option of running it up the middle himself, handing the ball to one of his tailbacks, usually seniors Kyle Ricks and Brandon O'Clisham, or taking it himself around the outside of the formation.
Green's slight stature also helps him, as he's able to hide himself and the ball behind his towering offensive line and many defenses have trouble identifying just who has the ball. In the Majors season-opening overtime win over T.C. Williams, Green did this to perfection on the game's winning touchdown, faking a handoff and scoring before anybody knew he had even taken off running.
With last Friday's game being played in wet conditions, Green again opted to keep the ball himself more often than not, running for more than 80 yards while scoring both of the Majors' touchdowns.
It wasn't always this easy for Green, though. Last year, his first as the starter on varsity, had plenty of growing pains, but Glynn has seen rapid progression from his star player so far this season.
"He's improved in the way he runs everything, in the option and the way he runs the offense," Glynn said. "It makes it easier when he's got a little bit of space to run it."
Green also plays in the secondary for the Majors, and played a big role in slowing down Washington-Lee's star quarterback Charlie Fuller. But it's his play on offense that will dictate just how far Mount Vernon will go this season.
In the mean time, expect the back-and-forth between coach and quarterback to continue.
"He's improved the way he listens, but there are still some moments there," said Glynn with a smile on his face. "But he does a great job."