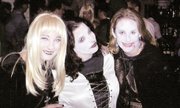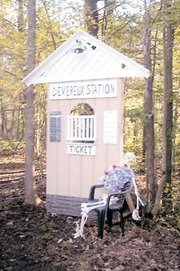 Get ready for some Howling Halloween fun. The annual Clifton Haunted Trail will be Saturday, Oct. 25 in two versions in Clifton's Eight-Acre Park. Tickets are $7.
Eight-Acre Park is lined with volunteers dressed as ghouls and gobblins. The trail includes 13 skits or re-enactments and six scenes set up with lighting and props. Instead of vampires, visitors will meet "Goth"-pires, new creepy scenes and Civil War ghosts. A few of the skits involve strobe lights, which can be disorienting.
Some of the performers are from Vpstart Crow theater group and some of the props are being donated by the Alliance Theater.
The "scary, full-fright" trail is from 7-10 p.m., and the "not-so-scary" trail for elementary-age children is from 5-6 p.m. Parents should accompany children along the trail as opposed to just dropping them off.
Last year, more than 1,000 people attended, and organizer Deb Dillard said the biggest crowds came between 8-9 p.m. This year, she suggests the best time to arrive is at 7 p.m. or 9 p.m. Be sure to wear sensible shoes as it may be muddy.
Dillard said the experience is reminiscent of somebody telling spooky stories in a safe environment. "You can laugh at the end and say, oh, nothing was real in there," she said.
Children may wear costumes but no face masks of any kind. Dillard suggests that parents not bring children who are easily frightened. At the end of the trail, visitors will find a booth where they can vote on their favorite skit and favorite scene.
The event also features Monster Movies Under the Moon — "Ghost Busters" and "Young Frankenstein," courtesy of Cox Communications. Hot apple cider, cookies and snacks will be available as well.
Parking is available at the Clifton Floodplain and Clifton House Shops where hayrides will take people to the park.
The event is a grassroots effort with some 150 volunteers helping to setup and break down the event. Most of the volunteers come from outside the Town of Clifton. "They show up for the love of Clifton," said Dillard. Volunteers are still needed to help break down the decorations the day after.
For details, go to www.cliftonva.org. or call Deb Dillard at 703-815-9073 before 7 p.m.