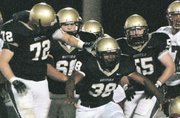 While the Web clicks, radio talk and newspaper articles might've convinced someone outside of the Westfield football program otherwise, last Friday's showdown against Oakton wasn't going to make or break the Bulldogs' season.
Win or lose, the team's focus would quickly shift to Centreville — this week's opponent — and a Senior Night battle with the Wildcats would become the biggest game of the season.
It's a simple philosophy and one that has helped Westfield accumulate an 86-17 record since the school opened in 2000.
"The biggest game we'll ever play is the game we're playing," said coach Tom Verbanic, following his team's 30-18 loss to Oakton. "[Last Friday] was a big game and we're used to being in big games. But we just said when it was over that Centreville would become the biggest game."
The loss handed Westfield its first two-game losing streak since 2001 but did very little to shake up the Northern Region Division 6 playoff picture.
<b>WESTFIELD ENTERED</b> the game against Oakton with 29.8 power points (2nd) while Oakton was first with 31.3. When everything was re-calculated on Monday, the Bulldogs held the same exact spot.
Not that the loss wasn't a learning experience. Westfield struggled to defend Oakton's spread offense, allowing quarterback Chris Coyer (three total touchdowns) to pass for 113 yards and run for 111 more.
"We struggled stopping them," Verbanic said. "They're very good on offense, and we struggled stopping them. The other thing was we were able to score some but we couldn't finish. A couple times we drove the ball and couldn't finish."
On offense, the Bulldogs committed a costly first-half turnover but were able to accumulate 351 total yards, led by senior running back Jordan Anderson's 21-carry, 183-yard performance.
"It was a tough loss for us," said Anderson, who rushed for three touchdowns and has totaled 1,245 yards and 17 scores this season. "We have to forget that we lost and move on, but we really can't forget how we felt this week and last week."