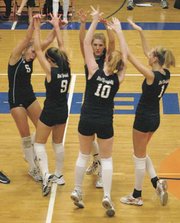 Before every match, West Springfield volleyball coach Stephanie Noriega scribbles her players' names on 12 pieces of paper. She takes those crumpled pieces of paper, tosses them into a hat, and proceeds to pluck six names to see who'll start that match.
While that's not exactly how Noriega fills out her lineup, that's not saying it wouldn't work.
"Realistically, I could do it … and they'd be fine," Noriega joked.
Noriega, who's in her first year as the varsity head coach after coaching the junior varsity squad last fall, has a problem that most coaches could only dream of. She has 12 talented players and only six spots to put them in.
"It's really nice because I know that I can pull anyone off the bench, at any point in the game, and it's not going to bring down the level of play," Noriega said. "The tough part of it is, I have 12 kids that deserve to be starters, and mathematically, I can't get them all the playing time that they deserve."
Through eight games this season — a stretch during which West Springfield has gone 5-3 — Noriega has juggled her lineup and has done so effectively. The Spartans don't quibble about playing time and the team's two senior captains, outside hitter Amanda Miller and setter Lauren Sipple, insist that the heavy rotations aren't a problem.
"We don't mind when others play instead of us because we're all equals on this team and we all know that," said Sipple, who, along with Miller, occupies one of the few concrete starting spots. "We're all equally as good as the person sitting next to us."
"I think communication helps a lot," Miller said. "If you try hard and you're loud, it translates into better volleyball and better communication on the court."
Sipple said that this year's team is the best that she's seen during her three-plus years with the program, which is rather impressive considering the Spartans of 2007's success.
<b>LAST YEAR'S TEAM</b> finished 12-7 during the regular season and posted a 5-2 mark in the Patriot District. With playoff wins over Hayfield, South County and West Potomac, West Springfield won the Patriot District tournament before losing lost, 3-0, to Chantilly in the quarterfinals of the Northern Region tournament.
The Spartans (6-3, 1-0 Patriot) graduated four seniors, in addition to losing coach Marcus Robinson, after last year's run, but a seven-member junior (now senior) class has provided the biggest reason for optimism.
"We have a group of girls who've started on varsity since they were sophomores, so we've had a really consistent group that's moved up and we're tight together," said Miller, a member of that group. "It's definitely an advantage when you're on the court. You know everyone's personality, and you know who's going to get to balls and who's not."
Like many, Noriega has set her team's primary goal as repeating last year's success with the addition of moving beyond the region quarterfinals.
On Monday, though, the quality of volleyball was admittedly unspectacular, Noriega watched her team open its Patriot District schedule with a 3-0 win over Hayfield. The Spartans played host to Lee on Wednesday, which ended after The Connection went to press.
The Spartans made many more hitting errors than Noriega has been accustomed to seeing, it didn't seem to worry the coach of this well-stocked team.
"We had uncharacteristically more errors than we normally do, which is what I think kept the game closer," said Noriega, whose team won by margins of 25-15, 25-18 and 25-21. "But I think my girls knew that they were the team that should come off the court with the win."