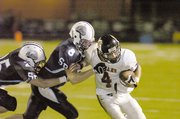 It would not spur discussion to label West Springfield quarterback Bryn Renner as talented. With his 6-foot-4 frame, a powerful right arm and loads of athleticism, little of what the UNC-recruit does anymore still comes as a surprise.
Unless, of course, he threw a 56-yard touchdown pass to nobody. Or to himself.
In fact, without the Spartans' stable of talented receivers, little of what Renner has accomplished — and it's a lot— would have ever been possible.
"They're just a pleasure to work with," said Renner, of his pass catchers. "It's great having confidence that they're going to be right there and that they're going to catch the ball."
"Our scheme is set up so that at least one person is going to be open on every play," said senior Andy Stallings, who leads the Spartans with 35 catches this season for 599 yards and seven scores. "The way our combination routes work, Bryn just finds a guy and throws him the ball."
The senior signal caller has thrown completed 64 percent of his passes this season for 1,355 yards and 15 touchdowns. He's thrown only two interceptions, or one per 70 attempts.
In a high school football landscape where rushing offenses and stout defenses are generally the norm, West Springfield has found success with the spread offense, and Stallings, senior Tucker Tobin, senior Fabrice Kabinga and junior T.J. O'Connell have been four inarguable reasons why.
It's not as if West Springfield can't run the ball. Senior tailback Brandon Bailey ran for 1,438 yards and seven touchdowns in 2007. But, with four talented receivers, the Spartans' offense is at its best when those four are on the move.
"We get going and the defense gets tired," said Tobin, who has 12 catches for 159 yards and two touchdowns this season. "In the first half, they'll do OK, and then we'll score a lot of points on them in the second half because the defense will get tired."
<b>LAST FRIDAY</b> at Annandale, West Springfield ended the first half with a 28-20 lead but scored two third-quarter touchdowns, ironically on a pair of Bailey runs, to finally pull away. On the season, West Springfield has scored 209 points through five games, an average of 41.8 per game.
Stallings led the group with nine catches for 170 yards and two touchdowns against the Atoms, while O'Connell caught nine passes for 115 yards and another two scores. Still, according to Kabinga and others, the receiving statistics don't matter.
"It doesn't matter how many yards somebody has," said Kabinga, who has caught nine passes for 200 yards and two touchdowns this season. "If you win, you win as a team. If you lose, you lose as a team. We just go out there and do our thing."
"I think it's a huge advantage knowing that the defense has to cover all of us all the time, that they don't just get to key on one person," said O'Connell, who has totaled 25 catches for 281 yards and two touchdowns this season. "Any of our wide receivers can have a big game when someone shuts down another one of our wide receivers."
Though the Spartans endured an 0-2 start, losing games to Division 5 powerhouses Stone Bridge and Edison, Renner's team has now rattled off consecutive wins against Robinson, Hayfield and Annandale. With a Patriot District bout against West Potomac on Friday, the Spartans will look to improve to 4-2 overall and stay undefeated at 3-0 in the district. Not that Bill Renner would ever be satisfied.
"They know how we want to run our offense. They know what their role is and they play mentally fast," Bill Renner said. "But I'm never happy. There are always things we can do better. My job is to come to them and say, 'Here's the next part of that goal.'"
As long as the next part of that goal doesn't involve Bryn Renner completing a post route to himself.