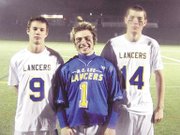 No one doubted that the Lee boys' lacrosse team would eventually garner five wins. The majority, though, just thought it might take a few years. Not seven games.
But a month into the season, the Lancers have enjoyed perhaps the Northern Region's most pleasant and unexpected surprise. Three months ago, Lee was struggling to have more than six people at off-season workouts.
"Before this year, I wasn't expecting much, to be honest," said junior Andrew Senft. "But after we got through the first two weeks of practice, then I started to expect more and more wins. Then we came out on fire. The first three games were just awesome for us."
Those three games were all wins. First came a 14-11 defeat of Edison, during which Senft scored eight goals. Six days later, Lee notched an overtime victory over South County, with Senft netting the winner and Will Ho the game-tying goal with nine seconds left in regulation.
During a 13-11 come-from-behind win over McLean to move to 3-0, Senft again tallied eight goals, while junior goalkeeper Damian Pulos made nine saves overall and several key stop down the stretch as Lee rallied to score four unanswered goals.
"Through the hard work that these guys have put in during the off-season, I think that's definitely made the difference through the first part of the season so far," said third-year coach Dan DiPirro. "We have to out-work everybody. That's where our bread is buttered."
<b>NOT ONLY</b> did those three wins give the Lancers a 3-0 start, but they also included the team's first district victory in nearly two years, as Lee went 2-10 last spring, 0-7 against Patriot opponents.
Much like a baseball team that has a strong catcher, center fielder and sure-handed set of middle infielders, Lee has benefited from its depth up the middle. With Senft as a sniper up top, junior defender Killian Gallagher spends his time patrolling the defensive zone. If a shot gets near the cage, Pulos can and will stop it with ease.
Despite the on-field talent, no one can really explain the drastic turnaround.
One day the Lancers were struggling to field a starting lineup. The next, they were putting a 19-1 beating on Wakefield, which happened on March 26. With a 12-9 win at T.C. Williams Tuesday night, April 14, Lee has a chance to improve to 3-1 against district opposition when it travels to Hayfield on Friday, April 17.
"We had off-season tryouts, and it wasn't looking too sharp," Gallagher said. "We were worried. It was definitely an eye-opener once we started coming out [to practice]. All my high school career, we've only won one or two games a season.
"To be 5-2 right now, I'm so grateful for that. I'm so happy that our coaches put in the effort that they do to get us out there running and working our butts off."
<b>LEE'S</b> offensive attack starts, oddly enough, with Pulos, who is counted upon to initiate the team's breakout plays. If he sees one of his teammates streaking upfield, the obvious choice is to hit that man with the ball. If not, Pulos trots the ball up himself.
While admitting that he had a bit of a sub-par game against the Titans, with errant passes nearly missing his teammates' sticks, Pulos praised his midfielders and attackmen for picking up the slack.
"It's scary at times," said Pulos of his offensive responsibility. "But like our coaches have taught me, look upfield. Most people know how our team works and how everybody plays their position, so we can just work off of each other like that."
Once the ball finds its way to the attackmen, it's up to Senft and Ho to finish off the play. Senft has been lighting it up thus far, with 37 goals and 54 ground balls -- both tops on the team. Ho, meanwhile, has 13 goals and 31 ground balls. Senior Eddie Kascsak, who had six goals prior to the T.C. Williams game, nearly matched that total with five against the Titans.
"His stick skills and shot are incredible," said DiPirro, of Senft. "I haven't seen that. He can put it anywhere. The only bad thing is that he thinks he's invincible," meaning that Senft oftentimes thinks he can finish every play on his own.
"He thinks he can roll through everybody," DiPirro said, "but he has to get some other guys involved with the game."