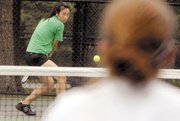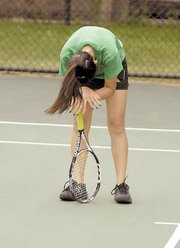 Six tennis courts sit just to the left of South County's football stadium and border the lacrosse team's practice field. Divided into two sets of three, the entire complex is surrounded by a chain link fence that encloses all six courts together.
With six singles players all squaring off at once, the head coaches of each team during a match patrol the outer fence, shouting instructions to the players inside that range anywhere from what shot to play next to necessary mechanical adjustments.
The in-match routine for Thomas Demharter, South County's fourth-year coach, differs slightly from other coaches who visit South County. He never visits a particular portion of the complex, namely the court Michelle Nguyen is playing on.
"I don't watch her. Really, there's no need to," said Demharter of Nguyen, who was last year's Northern Region singles champion and a three-time Patriot District singles winner. "I feel like everybody else needs the help more than she does."
A senior lefty who last year reached the Virginia AAA state semifinals, Nguyen is 48-0 against district opponents during the regular season, 60-0 when counting postseason play. The most games she has ever allowed an opponent to win? Six. That happened during her freshman campaign when she played through strep throat.
"Michelle sees the whole court," Demharter said. "She's always thinking two points ahead. She can overpower you if she wants. She can outsmart you, or she can outrun you. It's the whole game."
<b>MOMENTS BEFORE</b> her 10-0 singles win over Lake Braddock's Shannon Allin Thursday afternoon, April 16, Nguyen felt a pop in her racket. A string snapped. Nguyen, rolling her eyes, looked down in disgust. Not again.
Because of the amount of spin that she likes to put on her shots, Nguyen has her rackets strung inordinately tight, typically with a string tension of around 65 pounds. While the tactic may help her game, it's also fairly costly. With the strings wound tighter, naturally, they're more susceptible to break and Nguyen estimates that she breaks about a racket per week.
"My mom wants me to start stringing my own rackets," said Nguyen, who has accepted a scholarship to play tennis at George Mason University next season. "But since I'm going to college, they'll string them for me."
The spin Nguyen's shots carry is partly a result of her racket's tightness but partly a result of which hand she hits those shots with -- her left. Nguyen still plays her groundstrokes right-handed, but her left-handed serve can often confuse opposing players, as it's not something that high school players see every day.
Nguyen believes that her left-handedness allows her to pull her slice out wide, thereby forcing the other player to chase it more often. She also feels that it helps considerably on serves, improving the movement on both her kick and slice serves.
</b>DEMHARTER DOES the imitation best. With his arms curled out like he's carrying two watermelons, the coach walks forward, careful not to bend his knees -- almost like Frankenstein. It's an all-in-good-fun imitation of Nguyen during last year's Virginia AAA state semifinals when she had to retire because of dehydration. Nguyen watches and laughs.
Never one to drink too much Gatorade before, during or after one of her matches, Nguyen didn't deviate from that routine during a humid June day last year. She even, for some odd reason, decided to wear a T-shirt instead of her normal tennis garb. In the third set, Nguyen felt a pop in her calf.
"I felt [the calf] going out, so I just said I'd take it easy. So I was playing a soft game," Nguyen said. "Then she lobbed me, I ran back, and I just fell. It was scary. I thought I broke my leg or something because I normally don't just fall."
Nguyen wouldn't quit. She kept trying to play, all the while obviously dehydrated and looking somewhat like Demharter's imitation. Eventually, she was forced to quit and relinquished the chance to reach the state finals for the first time during a prolific career. So, will it happen this year?
"We're definitely going to be taking some bananas and Gatorade," Demharter said.
The tennis will be less of concern, provided she still has a racket.