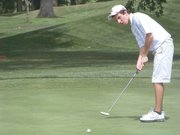 John Dupre sat on a bench off to the left of the 18th tee box at International Country Club on Monday, Aug. 10, tapping his upside-down driver on the ground out of frustration. With a bogey on the course's 178-yard, par-3 17th hole, Dupre was starting to develop more of a rhythm during this moment than he had enjoyed all afternoon.
In the first tournament of his senior year, Dupre was supposed to shine at the Cougar Classic. It was his time to grab Robinson's golf team by the horns and lead it toward the Northern Region tournament berth the Rams covet.
But Dupre sat powerless, his light blue Titliest cap tilted upward on his forehead. This, Dupre thought, was the last thing he was looking for.
"Just a stupid bogey," Dupre said of his performance on No. 17, which was followed by a double-bogey on the 383-yard, par-4 No. 18. "I couldn't pull it together after that."
Dupre eventually signed a scorecard that included a total of 76 strokes, good enough for a three-way tie for fourth place. As a team, Robinson posted a score of 315, which was 13 strokes more than Westfield's first-place total of 302.
The top individual score for the Rams came from Alex Austin, who was the fifth player out on the course. Austin returned with an 18-hole total of 75, which had her tied with Westfield's Sara Stanley before a tiebreaker awarded second place to Stanley. Westfield's Tim Ritter won the individual title with a 74.
"They can play a little bit better, but these conditions were tough for them today," said ninth-year coach Chuck Humphries.
<b>BEGINNING HIS</b> 41st year of coaching at the high school level, Humphries has seen every sort of team imaginable. The kind with little talent and a scant shot at contending. Or the type so stacked with talent that there's no conceivable way outside of a meteor strike to prevent his team from winning a trophy.
This year's bunch fits sort of in the middle of those two extremes, with the Rams returning several important players from a group that placed fifth in the Concorde District last fall. In fact, six seniors on the team have been three-year players for Humphries.
"They've all stuck with it," Humphries said. "They've all practiced hard in the winter, and right now I have a little bit of depth and it should pan out when it comes time for districts. If I've got any kind of year to do this, this is going to have to be the year to do it."
Districts, regionals and state playoffs, of course, are a long way off considering this was the first tournament of the season. While the Cougar Classic traditionally provides teams with a sneak peak at their competition for the fall, Monday's tournament produced some skewed results.
Several participants suggested Monday's hole placements as particular trouble spots, as well as the ultra-fast greens ad sudden wind gusts. Don't forget about the heat, either. Monday was perhaps the hottest day all summer, leaving several players fatigued by the time they returned to the clubhouse having walked 18 holes.
"I'm just exhausted," said South County's Josh Carey. "It was a tough day."
<b>THE JUNIOR YEAR,</b> Michael Calo of Fairfax said, is the most crucial year of a high school golfer's career. It's often when a successful player can make a name for himself and produce some buzz prior to the player's senior year.
Calo's logic is not all that revolutionary, but his way of thinking didn't jibe well with his score on Monday. By posting a mark of 86, Calo was significantly lower on the leaderboard than he would've liked to have been.
"I couldn't seem to hit it straight," Calo said. "It was tough squaring up and putting a good swing on it every time."
Besides Calo's mark, Phillip Aram and Jake Snyder shot 85s, Hank Strickland shot an 88 and Scott Mattocks rounded out the scoring with a 91.
Elsewhere for Robinson, Kelly Hill and Muhammed Salam shot 82s, while Tory Howell posted a 92.