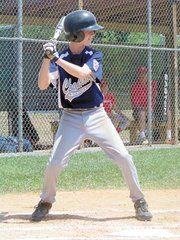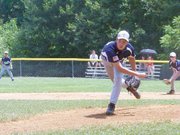 Grant Bain found himself in a situation his baseball idol, St. Louis Cardinals slugger Albert Pujols, could relate to. It was the bottom of the last inning and the score was deadlocked 0-0 in the Southeast Regional Baseball Tournament in Ceredo-Kenova, W.Va.
If the Chantilly American Majors All-Star team wins, it would be one game closer to a spot in the Little League World Series in Williamsport, Pa. Lose and an entire summer of baseball would end just short of their goal.
With two runners on base and two strikes against him, Bain faced a dire situation against a strong pitching team from Tullahoma, Tenn.
"I was nervous," the 12-year-old center fielder said.
Bain said he thought about his teammates' heroics in previous games and wanted to return the favor. He stepped up to the plate, rocked the ball over the outfielder's head and drove in the game-winning run.
It was just one of many moments that coach Sean Matthews said put his Chantilly American Majors All-Star team in a semifinal match against Jackson, Ala., on Wednesday night, which ended too late for this edition.
"[The season] has just been fantastic," Matthews said. "That moment really ignited us. It just goes to show how deep this team is; everyone is really good."
<b>THE CHANTILLY TEAM</b> has earned a 3-0 record at the Southeast Regional Baseball Tournament. With a win Wednesday night, Chantilly American would be on ESPN Friday night to play the winner of the other semifinal game between Tullahoma, Tenn., and Warner Robins America from Georgia.
The team's play in the regional tournament has been nothing short of a roller-coaster ride for the players and coaches.
In the first game against West Virginia, the team took a 4-0 lead in the first inning and then hung on in a nail-biter to win, 6-5. The 1-0 meeting with Tullahoma tested the Chantilly pitching staff, but in the third game against Greenwood, S.C., the team cruised to a 7-4 victory.
"We went in not knowing exactly how good these teams would be," said Mike Sciorra, 13, Chantilly's leadoff hitter. "I'm a bit shocked we went 3-0, but I think we got more comfortable as the games went on."
With just two games keeping Chantilly from Williamsport, Matthews continues to remind the players that there's still games to be won.
"I tell them, 'There's tomorrow and that's it,'" he said. "We hear the kids talking about [being on ESPN], but we are quick to remind them about the next game."
That's not to say that Matthews hasn't found time to let his team bond off the baseball field. On Tuesday night, they hit the local miniature golf course to relax.
"We're trying to make this experience fun," he said. "We want them to enjoy themselves but at the same time, we're here to play baseball."
<b>THE DOWNTIME</b> between games has also given Matthews time to reflect on the arduous journey that brought the team to West Virginia.
"When we put the team together, I had a feeling we could contend for the state championship," he said. "But I never even looked this far ahead. I didn't know if we could get past that."
Matthews said he knew his team could accomplish anything after the team re-bounded from a 13-2 loss to Southwestern Youth Association East [SYA] in the district tournament.
"We had to step back and change some things," he said. "We went to the elimination bracket and fought out of there. Then we had to play SYA again and come back from a 9-4 deficit. Then we had to beat them again. When we did it, that's when I knew we could do anything."
The last time a Chantilly team came close to the Little League World Series was in 1990, but the team only made it as far as the regional tournament.
"It's tough. We have to keep everyone motivated and ready to go," Matthews said. "We've had a blast though."